Wilo-Stratos
Series description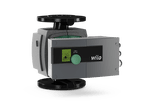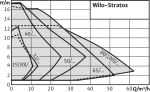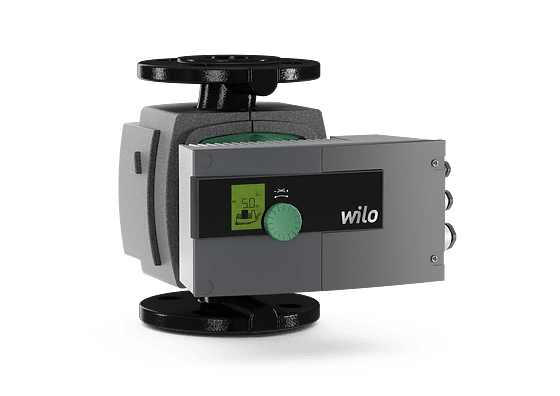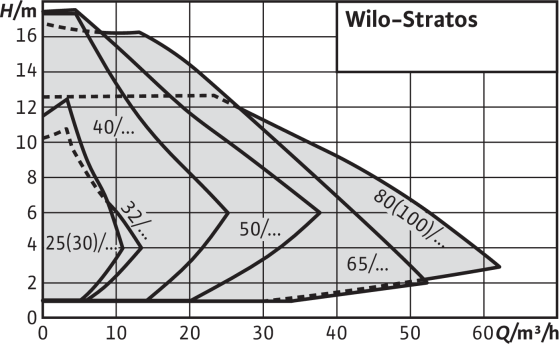 Your advantages
Energy savings due to greater system efficiency with the Q-Limit function (volume flow limiter)
Improved Energy Efficiency Index (EEI) ≤ 0.20 for all single pumps
Enhanced display for better readability and ease of operation
Space-saving installation thanks to compact design and variable-orientation LC display
Modular concept for connection of all conventional bus systems (e.g. Modbus, BACnet, CAN, LON and PLR)
Tried-and-tested quality and reliability
Phasing out program
After 19 successful years, the Wilo-Stratos high-efficiency pump will be removed from our product range at the end of the year. It will be fully superseded by the new Wilo-Stratos MAXO smart pump. The successful era of the Stratos series will continue with the Stratos MAXO's new pump technology.
Construction
Glandless circulator with threaded connection or flange connection, EC motor with automatic power adjustment.
Application
Hot-water heating systems of all kinds, air-conditioning systems, closed cooling circuits, industrial circulation systems.
Equipment/function
Operating modes
Constant speed (n=constant)
Δp-c for constant differential pressure
Δp-v for variable differential pressure
Δp-T for temperature-controlled differential pressure (programmable via IR-Stick, IR-Monitor, Modbus, BACnet, LON or CAN)
Q limit for limiting the maximum volume flow (setting only via IR-stick)
Manual functions
Setting the operating mode
Differential pressure setpoint setting
Setting automatic setback operation
Setting the pump ON/OFF
Setting the speed (manual control mode)
Automatic functions
Continuous power adjustment according to the operating mode
Automatic setback operation
Deblocking function
Soft start
Full motor protection with integrated trip electronics
External control functions
"Overriding Off" control input (possible with Stratos IF-Modules)
"Overriding Min" control input (possible with Stratos IF-Modules)
"Analogue In 0 - 10 V" control input (remote speed adjustment) (possible with Stratos IF-Modules)
"Analogue In 0 - 10 V" control input (remote setpoint adjustment) (possible with Stratos IF-Modules)
Signal and display functions
Collective fault signal (potential-free NC contact)
Individual run signal (potential-free NO contact) (possible with Stratos IF-Modules)
Fault signal light
LCD display for indication of pump data and error codes
Data exchange
Infrared interface for wireless data exchange with IR-Stick/IR-Monitor
Modbus RTU serial digital interface for connection to building automation BA via RS485 BUS system (possible with Stratos IF-Modules)
BACnet serial digital interface MS/TP Slave for connection to building automation BA via RS485 BUS system (possible with Stratos IF-Modules)
CAN serial digital interface for connection to building automation BA via CAN BUS system (possible with Stratos IF-Modules)
LON serial digital interface for connection to a LONWorks network (possible with Stratos IF-Modules)
PLR serial digital interface for connection to BA via Wilo interface converter or company-specific coupling modules (possible with Stratos IF-Modules)
Dual pump management (twin-head pump or 2 x single pumps)
Main/standby operation (automatic fault-actuated switchover/time-dependent pump cycling): various combinations with Stratos IF-Modules (accessories) possible
Parallel operation (efficiency-optimised peak load activation and deactivation): various combinations with Stratos IF-Modules (accessories) possible
Equipment
Wrench attachment point on pump body (for threaded pipe union pumps with P2 < 100 W)
For flange-end pumps: Flange versions
Standard version for DN 32 to DN 65 pumps: PN 6/10 combination flange (PN 16 flange according to EN 1092-2) for PN 6 and PN 16 counter flanges
Standard version for DN 80/DN 100 pumps: PN 6 flange (designed for PN 16 according to EN 1092-2) for PN 6 counter flange
Special version for DN 32 to DN 100 pumps: PN 16 flange (according to EN 1092-2) for PN 16 counter flange
Plug-in position for optional extension with Wilo-IF-Modules
Thermal insulation as standard for heating applications
Scope of delivery
Pump
Including thermal insulation
Including gaskets for threaded connection
Including washers for flange screws (for nominal connection diameters DN 32 - DN 65)
Including installation and operating instructions
Type key
| | |
| --- | --- |
| Example: | Wilo-Stratos 30/1-12 |
| Stratos | High-efficiency pump (screw-end or flange-end pump), electronically controlled |
| 30/ | Nominal connection diameter |
| 1-12 | Nominal delivery head range [m] |
Technical data
Permissible temperature range -10 °C to +110 °C
Mains connection 1~230 V, 50/60 Hz
Protection class IPX4D
Screwed connection or flange connection (depending on type) Rp 1 to DN 100
Max. operating pressure of standard version: 6/10 bar or 6 bar (special version: 10 bar or 16 bar)
Materials
Pump housing: grey cast iron with cataphoretic coating
Thermal insulation: polypropylene
Shaft: Stainless steel
Bearing: carbon, metal impregnated
Impeller: Plastic
Description/construction
Glandless circulator with EC motor and integrated automatic power adjustment
Green Button Technology and graphic display
Motor protection with trip electronics
Plug connection for functional extension with optional IF module for building automation (BA)
Impeller with three-dimensionally curved blades and plastic sealing tube made of carbon fibre composite material