Safe WSG 5-24 (basic unit)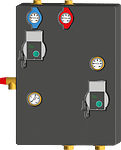 Safe WSG 5-24 (basic unit)
Basic unit of system separation WS 5-24 Yonos PICO, consisting of the heat exchanger, as well as the connection valves for the secondary side (underfloor heating circuit), integrated in a common insulation shell.
Consisting of
High-efficiency floor-area pump with stainless steel housing (Yonos PICO plus 25/1-6-N),
Special heat exchanger WT 5-24,
2 multipurpose ball valves with integrated thermometer 0-120°C and R¾" connection option for a diaphragm expansion tank,
Flow and return pipe with 2 immersion wells and secondary pipe assembly made of MS,
Pressure gauge 0-4 bar,
2.5 bar safety valve
Filling and drain cock MS,
2 insulating shells made of EPP incl. wall bracket and fixation material.
The basic unit is fully assembled, pressure-checked and packed in insulated containers.
Technical data
Rated power: 5 – 24 kW
Operating temperature (max.): 90 °C
Operating pressure (max.): PN 6
Connections, floor circulation: Ø28 mm inside
Connections, tank circulation: Ø28 mm inside
Weight: approx. 14.6 kg
Dimensions (L x W x H): approx. 555 x400 x 160 mm
Technical data
Height H
Length L
Width W
Net weight, approx.
Make
Item no.
Certificate REACH (Documents)