Safe WT 5-24 (heat exchanger)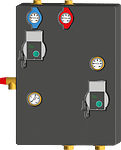 Safe WT 5-24 (heat exchanger)
Heat exchanger for the system separation WS 5-24 Yonos PICO for transferring the heat generated in the boiler to the underfloor heating circuit. Also goes with WSG 5-24 basic unit.
Comprising:
Jacket made of brass (CuZn 36 Pb 2 As), Ø100 mm external,
Ribbed helical coil made of copper (SF-Cu), Ø22 mm external,
Primary circuit (boiler side) through helical coil with G 1¼" male thread for feed and G 1½" for return and Rp 1" connection for bypassing the 3-way mixer,
Secondary circuit (underfloor heating system) through shell area of the heat exchanger with G 1½" or G 1¼" male thread for feed and return
Technical data
Height H
Length L
Width W
Net weight, approx.
Make
Item no.
Certificate REACH (Documents)
REACH regulation
| | |
| --- | --- |
| Article Number | |
| Edition | 2020-08 |
| Page format | 209.9 x 297.0 mm |
| Number of pages | 2 |
PDF (158 KB)