Wilo-DrainLift M
Series description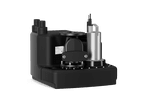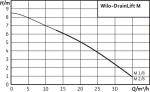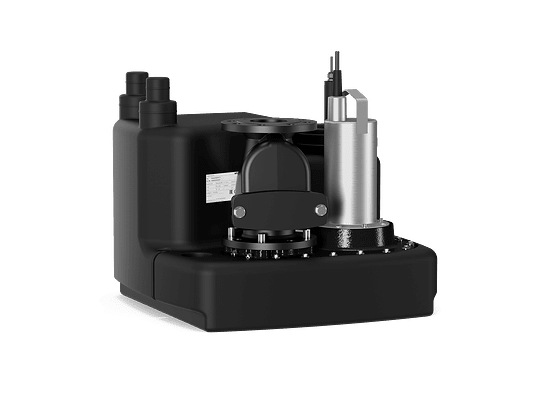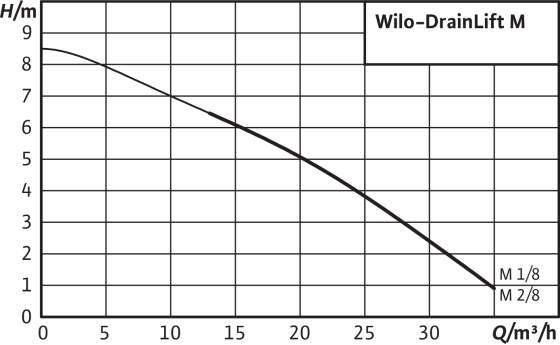 Your advantages
Space-saving installation
Easy-to-install thanks to low weight and large scope of delivery
Flexible due to free selection of inlets
Operationally reliable with integrated thermic motor protection and mains-independent alarm
Construction
Sewage lifting unit as single pump system or double-pump system
Application
Pumping of sewage containing faeces (according to DIN EN 12050-1) that cannot be returned to the sewer system using natural falls, and backflow resistant drainage of discharge points below the backflow level (according to DIN EN 12056-1).
Equipment/function
Ready-to-plug
Thermal motor monitoring
Level control with float switch
Mains-independent alarm
Potential-free contact
Pump cable detachable
Non-return valve (RV version)
Inlet seal
Hole saw for inlet borehole
Hose connection for ventilation
Seal for suction pipe connection for diaphragm hand pump
Kit for pressure pipe connection
Fixation material
Soundproofing material
Switchgear
Scope of delivery
Connection-ready sewage lifting unit, including:
Switchgear with mains-independent alarm and plug:
1x inlet seal DN 100
1x hole saw for inlet DN 100
1x lip seal for connection of diaphragm hand pump or inlet connection Ø 50 mm
1x collar for ventilation connection DN 70
1x flange connector DN 80/100 with flat gasket, flexible hose section and fixing material for discharge pipe connection DN 100
1x DN 80 non-return valve (only for M1/8RV and M2/8)
Sound absorption strips for sound insulation installation
9 V rechargeable battery
Fixation material
Installation and operating instructions
Type key
| | |
| --- | --- |
| Example: | Wilo-DrainLift M1/8 (1~) RV |
| M1 | M1 = single-pump system M2 = double-pump system |
| /8 | Max. delivery head [m] |
| (1~) | 1~: Single-phase version, 3~: Three-phase version |
| RV | Version with non-return valve without details: Version without non-return valve |
Technical data
Mains connection 1~230 V, 50 Hz or 3~400 V, 50 Hz
Power consumption P1 = 1.3 kW
Cable length from system to switchgear 4 m / plug cable 1.5 m
Operating mode S3-15%, 80 sec
Fluid temperature max. 40 °C, for short periods (3 min.) 60 °C
Max. ambient temperature of 40 °C
Free ball passage 45 mm
Pressure port DN 80
Inlet connection DN 40 / DN 100 / DN 150
Ventilation connection DN 70
Min. suction head (installation level to middle of inlet) 180 mm
Protection class (without switchgear) IP 67
Gross tank volume 62 l to 115 l, depending on type
Switching volume 24 l to 40 l, depending on type
Materials
Motor housing: Stainless steel 1.4301
Hydraulic housing: Cast iron EN-GJL-250
Impeller: PUR plastic
Tank: PE plastic
Description/construction
Fully submersible sewage lifting unit, ready for connection (flooding height: 2 mWS, overflow time: 7 days) with a gas and watertight collection tank equipped with buoyancy safeguards. Centrifugal pump with vortex impeller.
DrainLift M1/8:
Single-pump system with single-phase or three-phase AC motor for automatic operation. Switchgear with shock-proof or CEE plug, potential-free contact, integrated and mains-independent alarm and adjustable follow-up time.
RV version with non-return valve included in the scope of delivery.
DrainLift M2/8:
Double-pump system for automatic operation (with automatic duty cycling, standby and peak-load operation). Due to the integrated double non-return valve, only one pressure pipe connection is required. Switchgear with shock-proof or CEE plug, potential-free contact, maintenance interval display, early fault detection and integrated and mains-independent alarm and adjustable follow-up time.
Attention: The switchgear is not submersible and must therefore be arranged in such a way that it is overflow-proof.