Wilo-Medana CH1-LC
Series description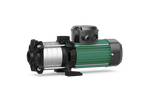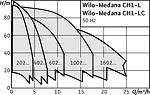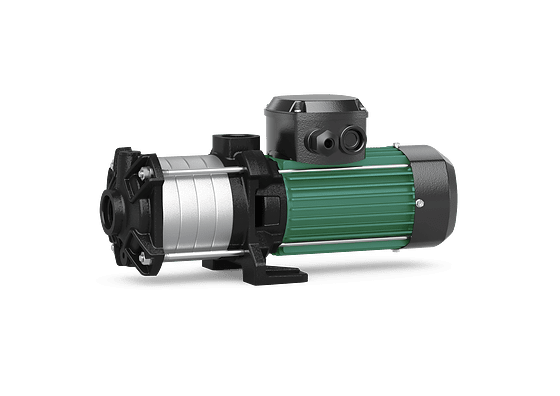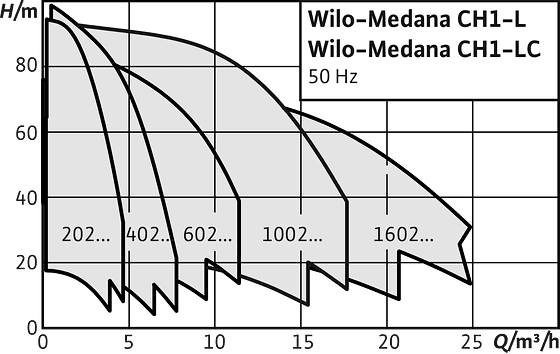 Your advantages
High efficiency thanks to high hydraulic output
Highly reliable and robust with low noise emissions thanks to neck ring and corrosion-resistant lantern with cataphoretic coating
Suitable for use in ambient temperatures of up to 50 °C – which means an expanded field of application especially for system integration
Efficient system integration.
Wilo-Medana CH1-LC with its robust pump housing offers high reliability and, with its corrosion-resistant components, a large field of application for integration in larger systems even at ambient temperatures of up to 50 °C. The non self-priming, multistage pump achieves maximum hydraulic output.
Construction
Non self-priming horizontal multistage pump.
Application
Water distribution and boosting
Irrigation
Industrial process
Equipment/function
Pump in block design
Threaded connection
Single-phase or three-phase AC motor
Single-phase motor with integrated thermal motor protection
Scope of delivery
Pump
Installation and operating instructions
Type key
| | |
| --- | --- |
| Example: | Wilo-MEDANA CH1-LC404-5/E/A/10T |
| MEDANA | Product designation surface pump |
| CH | Commercial horizontal |
| 1 | Series level (1 = entry, 3 = standard, 5 = premium) |
| LC | Long shaft – grey cast iron pump housing |
| 2 | Nominal volume flow [m3/h] of the single pump |
| 02 | Number of single pump stages |
| 5 | Housing material GJL250 |
| E | E = EPDM gasket |
| A | A = frequency 50 Hz/single-phase/230 V |
| | B = frequency 60 Hz/single-phase/220 V |
| | C = frequency 60 Hz/single-phase/230 V |
| | D = frequency 50 Hz/three-phase/400 V |
| | E = frequency 50 Hz/three-phase/230 – 400 V |
| | F = frequency 60 Hz/three-phase/220 – 380 V |
| | G = frequency 60 Hz/three-phase/265 – 460 V |
| | I = frequency 60 Hz/three-phase/460 V |
| 10 | Rated pressure (bar) |
| T | T = threaded connections |
| | P = Victaulic connections |
Technical data
Mains connection 1~230 V (±10 %), 50Hz
Mains connection: 3~230 V-400 V (±10 %), 50 Hz; 265-460 V (±10 %), 60 Hz
Fluid temperature of -20 to +90 °C
Max. operating pressure 10 bar
Max. inlet pressure 6 bar
Protection class IP55
Nominal diameters of pipe connections: from Rp1" to Rp 1 1/4"depending on type
Materials
Impellers, stage chambers and pump housing made of 1.4301/1.4404 stainless steel
Shaft 1.4301 or 1.4404 stainless steel
Seal EPDM
Mechanical seal: EPDM version: B-carbon/silicon carbide;
Bearing tungsten carbide/aluminum oxide
Pump base and pump housing EN-GJL-250