Jet HWJ 20 L 204 (1~230 V)
Jet HWJ 20 L 204 (1~230 V)
Data sheet
Hydraulic data
Maximum operating pressure PN

6 bar

Pressure port

Rp 1

Min. fluid temperature Tmin

5 °C

Max. fluid temperature Tmax

35 °C

Min. ambient temperature Tmin

3 °C

Max. ambient temperature Tmax

40 °C
Motor data
Mains connection

1~230 V, 50 Hz

Rated power P2

1.00 kW

Rated current IN

6.20 A

Rated speed n

2900 1/min

Power factor cos φ

0.91

Insulation class

B
Materials
Pump housing

Stainless steel

Impeller

Stainless steel

Shaft

Stainless steel

Shaft seal

CVPFF

Gasket material

NBR
Installation dimensions
Pipe connection on the suction side DNs

Rp 1

Pipe connection on the pressure side DNd

Rp 1
Information for order placements
Brand

Wilo

Product description

Jet HWJ 20 L 204 (1~230 V)

EAN number

4048482834719

Article number

2549381

Net weight, approx. m

17 kg

Gross weight, approx. m

18.2 kg

Length with packaging

555 mm

Height with packaging

640 mm

Width with packaging

315 mm

Packaging property

Sales packaging

Packaging type

Cardboard box

Minimum order quantity

1
Tender text
Centrifugal pump system with horizontal suction and vertical pressure port, consisting of:
Self-priming, single-stage jet pump with continuous motor pump shaft and direction of bidirectional mechanical seal. Directly flanged AC or three-phase motor with built-in thermal motor protection switch and condenser for AC version.
Pump control by means of control kit with diaphragm pressure vessel, pressure switch and pressure gauge (0 – 6 bar).
The pressure tank is equipped with an innovative and robust replaceable diaphragm made from the high performance material "Butyl+". It is maintenance-free and does not require replenishment during the warranty period.
All parts that come into contact with the fluid are corrosion-proof.
Pump system ready for connection, pre-assembled and wired with 2 m cable and mains plug. Ideally suited for use in garden and hobby areas. Connection via terminal box for three-phase version.
Materials
Pump housing

Stainless steel

Impeller

Stainless steel

Shaft

Stainless steel

Shaft seal

CVPFF

Gasket material

NBR
Operating data
Fluid media

Water

Min. fluid temperature Tmin

5 °C

Max. fluid temperature Tmax

35 °C

Gross volume of the diaphragm expansion tank V

20 l

Maximum operating pressure p

10 bar

Pressure port

Rp 1

Max. ambient temperature Tmax

40 °C
Motor data
Rated current IN

6.20 A

Power factor cos φ

0.91

Rated speed n

2900 1/min

Mains connection

1~230 V, 50 Hz

Insulation class

B

Electromagnetic compatibility

EN 61000-6-1, -2, -3, -4

Protection class

IP44
Installation dimensions
Pipe connection on the suction side DNs

Rp 1

Pipe connection on the pressure side DNd

Rp 1
Information for order placements
Net weight, approx. m

17 kg

Brand

Wilo

Product description

Jet HWJ 20 L 204 (1~230 V)

Article number

2549381
Dimensions and dimensions drawings
Jet HWJ 20 L 204 (1~230 V)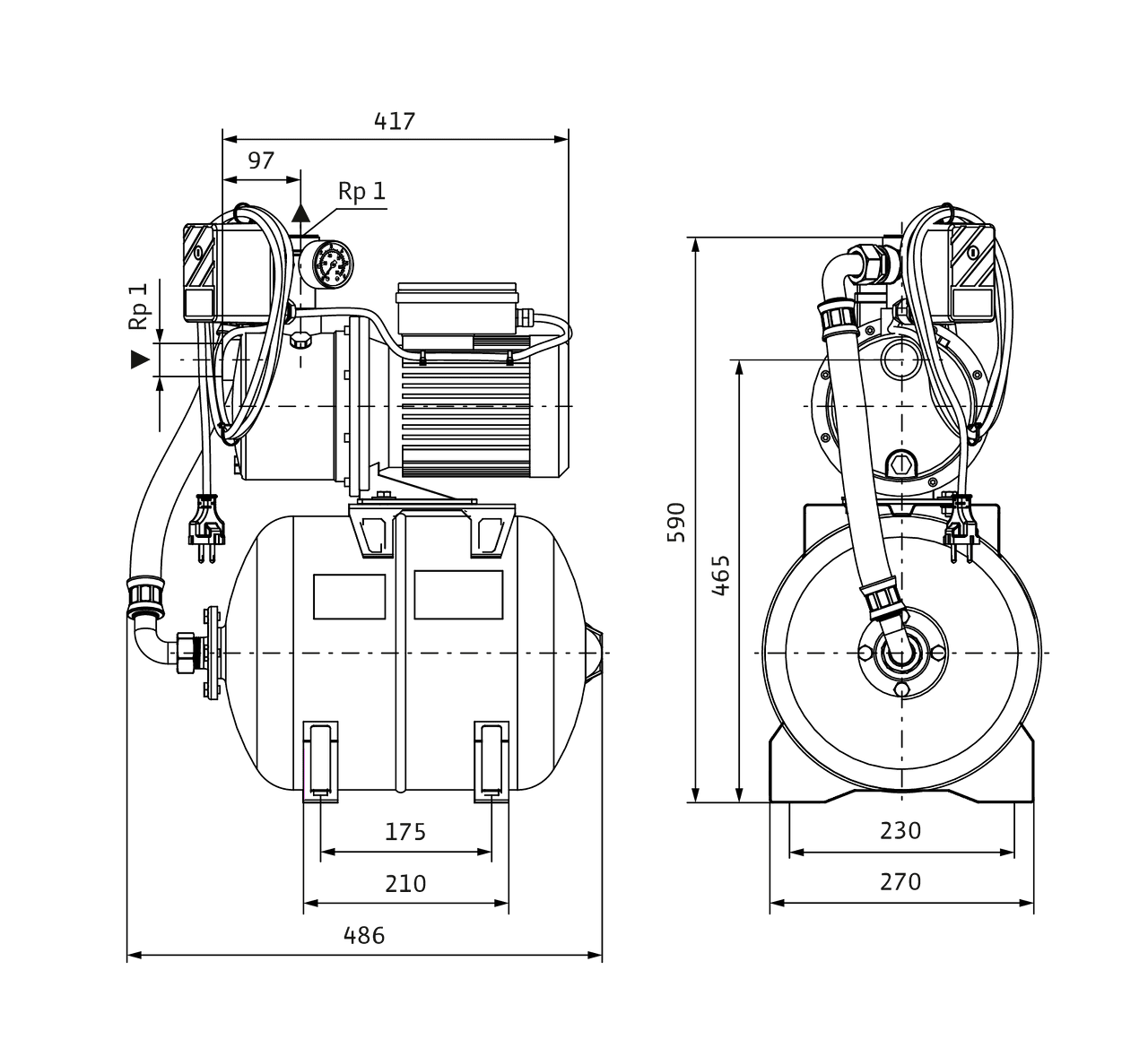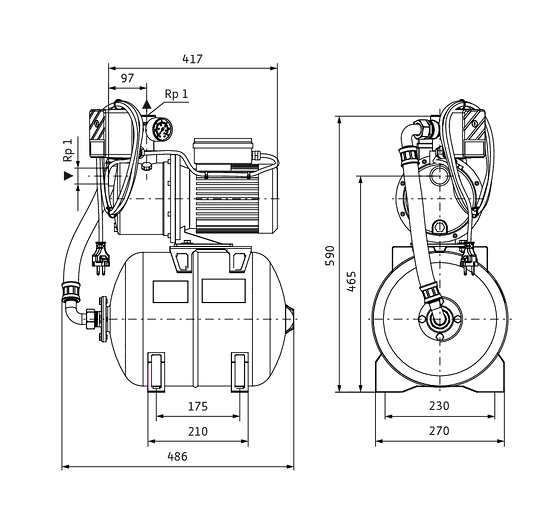 Ordering information
Information for order placements
Brand

Wilo

Product description

Jet HWJ 20 L 204 (1~230 V)

EAN number

4048482834719

Article number

2549381

Gross weight, approx. m

18.2 kg

Net weight, approx. m

17 kg

Overall length L

486.0 mm

Height without packaging H

590 mm

Colour

Green/silver/brass

Packaging property

Sales packaging

Packaging type

Cardboard box

Number per layer

4

Width without packaging B

285.0 mm

Minimum order quantity

1

Pieces per pallet

8

Date of sales availability

2018-09-01

Date of introduction

2018-09-01