D-network tri-band antenna 10 m cable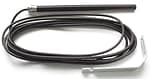 D-network tri-band antenna 10 m cable
Tri-band omnidirectional antenna with mounting bracket and FME bush for installation on the switch cabinet. Accessories for the switchgear Control SC.../SCe.../CC.../CCe... in connection with GSM/GPRS module.
Technical data
Frequency band
Reinforcement
Cable length
Min. ambient temperature
Max. ambient temperature
Length L
Width W
Height H
Net weight, approx.
Make
Item no.
Certificate REACH (Documents)