Break tank for drinking water and firefighting water applications (rectangular design), 3000 l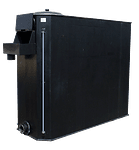 Break tank for drinking water and firefighting water applications (rectangular design), 3000 l
Atmospherically ventilated break tank for indirect connection to the drinking water supply network. System separation in accordance with DIN EN 1717 by means of safety device "free drain", type AB in accordance with EN 13077.
The overflow alarm fitted as standard can be connected to a switchgear and then triggers an alarm signal when the break tank overflows.
When using, please observe the corresponding standards (DIN 1988-600, DIN 1988-500) and the regulations of the local water supply companies.
Fields of application:
Indirect connection of fire-extinguishing systems, in accordance with DIN 1988-600, to the public drinking water network.
Indirect connection of pressure-boosting system, in accordance with DIN 1988-500, to the public drinking water network.
Scope of delivery
PE tank in cornered construction form with
Water level indicator
Draining
Float switch as low-water signal transmitter
Venting and exhaust with valve plate
Inspection opening with cover that can be sealed without tools
Inner wash plates for slowing down the fluid
Inlet, overflow, draw-off connection
Installation instructions
Flat, horizontal, frost-resisting
Provide sufficient space for inspection
Technical data
Break tank volume V
Min. fluid temperature
Max. fluid temperature
Material, tank
Connection input
Connection output
Flush connection
Overflow
Evacuation connection
Information for order placements
Length L
Width W
Height H
Net weight, approx.
Make
Item no.