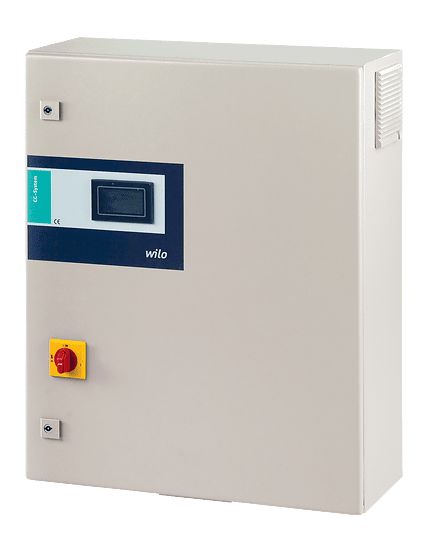 Wilo-CC-HVAC system
Your advantages
Easy operation: User-oriented menu navigation with multi-language plain text display and/or symbol navigation.
Easy-to-use system: Storage and output of operating data, display and storage of error messages.
Reliable system: Conductivity test of the transmitter paths, motor protection, status indicator for actuators.
Advanced settings: 3 adjustable setpoints, PID controller.
Optional modules for connection to bus systems: Profibus, CANBus, Modbus RTU, LON, BACnet and others. Remote data transmission possible via GPRS modem
---
Construction
Comfort control system for controlling glandless pumps and glanded pumps with integral frequency converters, or infinitely variable electronically controlled pumps.
Application
For infinitely variable power adjustment to the variable operating statuses of single, double or multi-pump systems of the series Wilo Stratos/-D/-Z, Stratos GIGA, IP-E/DP-E, IL-E/DL-E, BL-E, IL-E…BF (up to 6 pumps). Controlling depends on the differential pressure Δp, feed/return temperature (±T) or differential temperature (ΔT), including the free adjustment of the duty point by means of advance correction of the full-load pump output.
Equipment/function
How it works
Wilo Comfort Control Systems enable the infinitely variable electronically controlled power adjustment of pumps to the variable operating statuses of the hydraulic system, depending on the pressure (p), volume flow (Q) and temperature (T) control variables.
Equipment features
PID controller
Integrated real time clock with summer/winter time switchover
Integrated individual/total elapsed time indicator
Service life optimisation for multi-pump systems
Motor protection via connection of WSK and SSM
Multi-colour touch display with backlight
Status display for drives (e.g. pumps and frequency converters)
User-oriented menu navigation with multi-language plain text display and/or symbol navigation
Storage and display of extensive operating data
Defined display of error messages and storage in the history memory
Conductivity test of the transmitter paths
Type key
| | |
| --- | --- |
| Example | CCe-HVAC 4x5.5 FC |
| CCe | Comfort controller electronics for the control of electronic pumps or frequency converters |
| HVAC | Heating, air-conditioning and cooling applications |
| 4 | Number of pumps to be controlled (1 – max. 6 pumps) |
| 5.5 | Shaft power of the pumps to be controlled |
| FC | Version including frequency converters in the switchgear as well as sine filter |
Technical data
IP54 protection class
Mains connection 3~400 V, 50/60 Hz or 1~230 V, 50/60 Hz
for pumps with a rated power of P2 = 0.37 to 22 kW (higher powers and other voltages on request)
Speed between minimum and maximum control of the pump
Output signals 0/2 – 10 V, 0/4 – 20 mA
Permitted ambient temperature 0 °C to +40 °C
Certificate REACH (Documents)