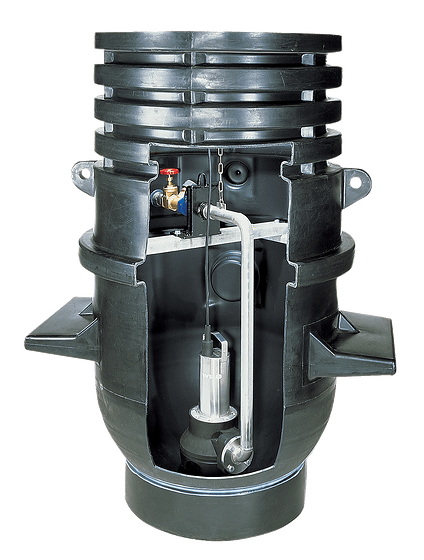 Wilo-DrainLift WS 900-1100
Your advantages
Deposit-free collecting space
High stability due to hemispherical shape of the bottom of the pump chamber
Four inlets can be selected on-site
Stainless steel pipes in V4A
---
Construction
Plastic pump chamber for insertion into the ground
Application
Pumping of sewage containing faeces or pre-cleaned sewage that cannot be returned to the sewer system using natural falls, and for the draining of objects that are below the backflow level.
Scope of delivery
Pump chamber with premounted pipework
Surface coupling
Non-return valve
Gate valve
Flush connection G 1½
Stainless steel chain including fastening hook
Supporting bar for level sensor or float switch including mounting accessories
Connection material for two DN 150 KG inlet pipes
Chain
Installation and operating instructions
For twin-head pump stations, double the number of valves (surface couplings, gate valves,...) are supplied.
Notice! Pump is not included in the scope of delivery!
Type key
| | |
| --- | --- |
| Example: | Wilo-DrainLift WS 1100E/x |
| WS | Synthetic pumping station |
| 1100 | Pump chamber diameter in mm |
| E | E = single-pump system D = double-pump system |
| x | Selected pump type |
Materials
Pump chamber: PE
Pipework: Stainless steel
Cross bar: Stainless steel
Gate valve: bronze
Non-return ball valve: Cast iron
Surface coupling: Cast iron
Chain: Stainless steel
Description/construction
Installation-ready plastic shaft with complete pipework as single or twin-head pump station for concealed floor installation. Plastic shaft with four inlets for flexible connection and four integrated fins for increased anti-buoyancy. The bottom of the shaft is semi-spherical in order to minimize deposits on the bottom of the shaft and maximize the stability of the form.
Technical data
Inlet: 4x DN 150
Ventilation: 2x DN 100
Chamber cover for a maximum traffic load of 5 kN/m² (in accordance with DIN EN 124, Group 1)
Maximum pressure in the pressure pipe: 6 bar
Certificate REACH (Documents)