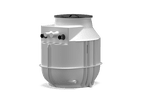 DrainLift WS 40D
Anti-buoyant plastic pump chamber, made of PE material as double-pump system, for installation in buildings as a wastewater lifting unit or outside the building as a pumps station in accordance with EN 12050-2. Complete with pipework for the corresponding pump type, non-return valve, cover with corresponding gaskets, floor fixation, inlet seal DN 100 and very small accessories. Inlet freely selectable up to DN 150. Switchgear can be selected as desired as an accessory.
Pumps that can be used:
Rexa CUT GI 03.26
Rexa CUT GI 03.29
Rexa CUT GE03.20
Rexa CUT GE03.25
Approved field of application
For Wilo pumps

Rexa CUT GI03.26/GI03.29/GE03.20/GE03.25

Max. permissible pressure in the pressure pipe P
Min. fluid temperature
Max. fluid temperature
Min. ambient temperature
Max. ambient temperature
Technical data
Break tank volume V
Connection input
Connection output
Venting
Material, tank
Length L
Width W
Height H
Net weight, approx.
Information for order placements
Make
Item no.
Installation and operating instructions
Wilo-DrainLift WS 40/50
| | |
| --- | --- |
| Article Number | 6087339 |
| Edition | 05 |
| Page format | 209.9 x 297.0 mm |
| Number of pages | 124 |
PDF (5 MB)
---
Certification booklet
Wilo-Drainlift WS 40/50#Wilo-DrainLift WS 40/50 Basic
| | |
| --- | --- |
| Article Number | 6069562 |
| Edition | 2021-07 |
| Page format | 209.9 x 297.0 mm |
| Number of pages | 72 |
PDF (4 MB)
---
Certificate REACH (Documents)