Intermediate flange connecting piece F 0, DN 40 x 15 mm, PN 6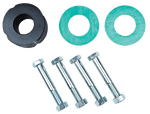 Intermediate flange connecting piece F 0, DN 40 x 15 mm, PN 6
The Wilo-F flange intermediate connecting pieces are used for compensation of the port-to-port length in case of a pump replacement.
They are made of grey cast iron and are provided for length compensation of flange connections.
The washers included in the scope of delivery must be used for pumps that have combination flanges.
Scope of delivery
1 flange intermediate piece F
2 seals
Screws/nuts (number and size based on flange version)
Technical data
Connection input
Connection output
Adapter length/compensable length dimension
Material
Net weight, approx.
Make
Item no.
Certificate REACH (Documents)