Screwed connection Rp ½ x G 1, 1 Set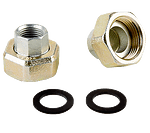 Screwed connection Rp ½ x G 1, 1 Set
Screwed connections for circulation pumps with threaded connection.
Malleable cast iron screwed connections, inserts with female threads for connection to steel pipes (DIN 2440) with Whitworth pipe threads according to DIN 10226-1.
Scope of delivery
1 set of malleable cast iron screwed connections consisting of:
2 union nuts
2 inserts
2 flat gaskets
Technical data
Connection input
Connection output
Material

EN-GJMW-400-5, yellow-coated

Packaging
Net weight, approx.
Make
Item no.
Certificate REACH (Documents)