FireSet-XXX-XXX-XXX/XXX E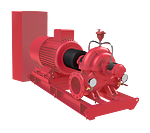 FireSet-XXX-XXX-XXX/XXX E
Pressure-boosting pump system with fully automatic single-pump compact unit for firefighting according to NPFA standards and with UL and FM certifications, consisting of: 1 pump with a horizontal baseplate - pump with split housing - with spacer coupling, electric or diesel motor and 1 pump with a switchgear fixed to a robust support structure. Model E for the electric motor and D for the diesel motor, both equipped with a Tornatech controller, solid structure constructed from special shapes with hooks for facilitating and securing transport, a special baseplate option for the diesel motor designed for intaking a large volume of concrete, significantly reducing vibration transfer and increasing its reliability and service life, a circuit with dual pressure switch, pressure gauge, non-return valve, valve (secured against unauthorised operation) for both the main and standby pump for an automatic start. The cables are concealed in the construction and protected against bumps and cuts. Standard-equipped with an air vent valve installed directly on the main pump housing. Only for diesel models: Motor cooling with water/water-heat exchanger, fuel tank with level sensor and sufficient volume for 8 hours' operational autonomy and 2 batteries on the baseplate and battery charging device in the FireSet switchgear.
Switchgear for fire-extinguishing systems according to the NFPA20 provisions. FM Global-certified (class 1321/1323). UL-certified (UL218 and CSA C22.2 no. 14).
Switchgear integrated in IP54 steel sheeting housing. Very high-quality control and very easy operation via the "WiZiTouch" controller with 7" LCD display, uncomplicated menu navigation with a simple menu, touchscreen and push buttons for quickly setting parameters. Ready-for-communication controller monitoring and detection systems.
The pump system has been wired ready for connection and mounted on the base frame.
Inlet pressure
When designing the system configuration, the maximum inlet pressure must be considered (see technical data). The maximum permissible inlet pressure is the difference between the system's maximum operating pressure and the maximum delivery head of the pump at Q = 0.
A pressure-boosting system installed under suction conditions is not permissible according to the NFPA standard. It must have a positive suction head.
Volume flow: Configuration of the system up to 2500 gpm (568 m3/h – 158 l/s) per main pump.
Operation
The operating logic for the fire-extinguishing system is based on the calibration of the pressure transducer for starting the pump.
The system maintains constant pressure by means of the optional jockey pump with automatic starting and deactivation via a pressure switch, which is dimensioned in such a way that it does not supply an individual sprinkler with any current or any pressure, thereby preventing the main pump from starting. In the event of a low pressure value conditional on water requirements, which was not compensated by a jockey pump, the main pump starts. The pump starts automatically and can be switched off manually using the switch on the front side of the control panel.
Switchgear/control device for fire-extinguishing systems
Wilo-Control FireSet E (main pump with electric motor)
Hardware:
Fully electronic central control unit in red RAL 3002 painted steel housing, protection class IP54, control and display on the front side.
Features and functions:
The design of the controller depends on the power of the connected pump. The device consists of several components:
Main switch: On/off switch for the switchgear. (Action not permitted in the event of fire)
Display: The WiZiTouch display installed on the door of the switch cabinet as a 7.0" colour touchscreen for operation and display. Shows the operating data and the respective switch-on status of the pumps and the controller using a combination of symbols and text. The menu is selected and the parameters input using intuitive buttons.
Microprocessor: Microprocessor PLC realised by programming ("Soft PLC"), power supply unit and I/O wiring. The programming configuration depends on the system and the sprinkler system.
Motor start-up: Contactors for star-delta connection
Emergency start:

Flange-mounted handle, movement and locking activation.
With integrated limit switch for direct starting (direct online)

Motor protection: Only for signalling
Performance monitoring:

Phase-to-phase voltage (normal power)
Electric current of every live wire when the motor is in operation

Pressure indication:

Continuous system pressure display
Start-up and switch-off pressure settings

Pressure and outcome recording:

Pressure value with date stamp
Outcome recording with date stamp
Under normal operation, outcomes are saved in the memory throughout the service life of the controller
Data are visible on the user interface screen
Data can be downloaded to an external storage device via a USB connection

Pressure measurement:

Pressure transducer und test run solenoid valve for fresh water application
Connection of the pressure sensing line 1/2" NPT-female thread
Discharge connection 3/8"
Designed for a working pressure of 0 – 500 psi (standard display for 0 – 300 psi)
Externally with the protection cover fitted

Visual indications: Current present - motor run - periodic test - manual start - starting of the deluge valve - automatic remote start - manual remote start - emergency start - on demand / automatic pump start - low pump pressure - pump chamber temperature (°F or °C) - locking
Alarms:

Only visual: Pump chamber alarm - on demand pump - motor fault - power failure - phase reversal - phase imbalance - L1 phase loss - L2 phase loss - L3 phase loss - low pump chamber temperature - weekly test activation not completed - control voltage out of order
Visual and audible: Restricted rotor current - start failed - lower water level - lower suction pressure

Remote alarm contacts: DPDT-8 A-250 V alternating current for: Current present - phase reversal - motor run - general pump chamber alarm (field can be assigned again) for: overvoltage/undervoltage/phase imbalance/low pump chamber temperature/high pump chamber temperature - general motor fault (field can be assigned again) for excess current/start failed/undercurrent/earth fault
Alarm bell: 4" alarm bell - 85 dB at 10 ft. (3 m)
Communication: Protocol: Modbus - connection type: Shielded RJ45-plug - frame size: TCP/IP
Conforms to the following standards:
Built according to NFPA 20
Underwriters Laboratory (UL): UL218 fire pump controller/CSA C22.2 no. 14 industrial control device
FM Global: Class 1321/1323
CE marking: Different EN, IEC and CEE directives and standards
Function description:
Wilo FireSet Control E control devices can be used to control pumps with an electric motor, sensors for pump management and the level of information. The controller is controlled via a microprocessor with "Soft PLC", serving to control and regulate all required functions of the pressure-boosting pump system for firefighting according to the provisions of NFPA 20 for testing purposes and in actual operation of the sprinkler system.
The operating logic for the fire-extinguishing system is based on the calibration of the pressure transducer for starting the pump.
If a large amount of water is requested due to the opening of one or more circuits or due to a defective sprinkler, the pressure in the system decreases. In this case, the starting of the main pump is activated by the FireSet controller.
As soon as the sprinkler circuit or gate valve, via which the sprinkler heads are supplied, is closed, pressure is built up in the system. Then the stop buttons on the control panel must be pressed to stop the main and standby pump.
Additional information:
Expandable memory, multi-lingual, upgradable software, password-protected
Operating data
Fluid media
Fluid temperature T
Ambient temperature T
Maximum operating pressure PN
Motor data
Mains connection
Rated power P2
Rated current IN
Power factor cos φ
Rated speed n
Materials
Pump housing
Impeller
Information for order placements
Brand
Product description

FireSet-XXX-XXX-XXX/XXX E

Article number