Wilo-RAIN3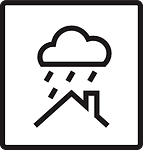 Rainwater utilisation via touchscreen.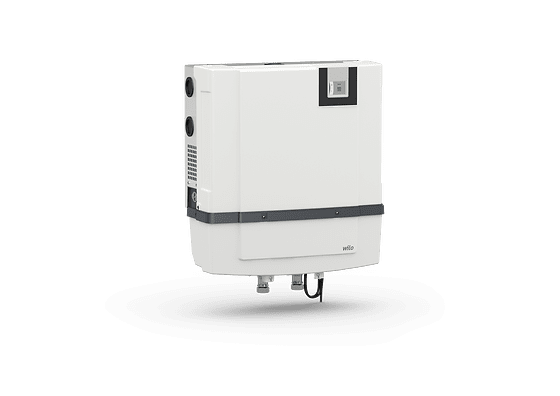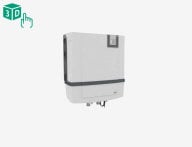 Wilo-RAIN3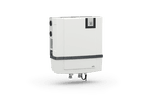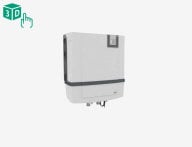 Rainwater utilisation via touchscreen.
The Wilo-RAIN3 is a rainwater utilisation system in accordance with EN 1717 and DIN 1989 standards. Its compactness and versatile hydraulic connection options mean that initial commissioning or replacement is quick and straightforward.
What's more, it is also extremely convenient and highly reliable thanks to the intuitive user interface of the touch LCD in connection with various intelligent functions such as the self-protection routine.
---
Your advantages
Easy installation thanks to ready-to-plug system and compact design with various hydraulic connection options
Convenient operation and easy setting options thanks to a unique combination of intuitive LCD touch screen operation and a wide range of functions
High level of reliability thanks to integrated self-protection routines
Hygiene safety thanks to a break tank with safety device in accordance with DIN 1989 and EN 1717
Quiet operation in installations close to living space
Control system can be updated via Wifi for Wilo Service
---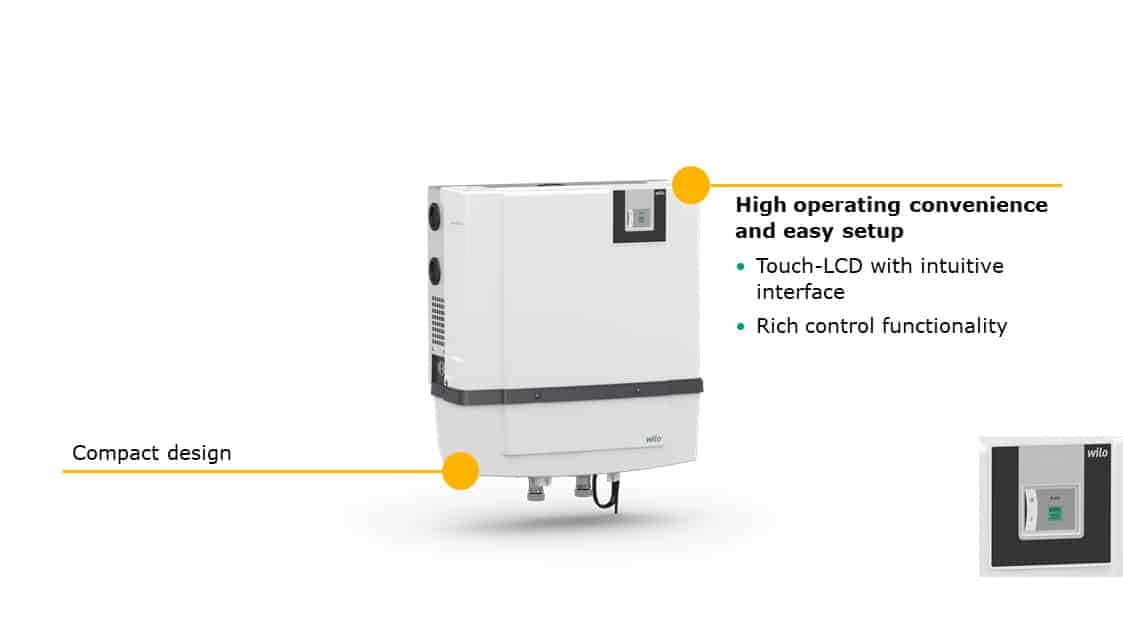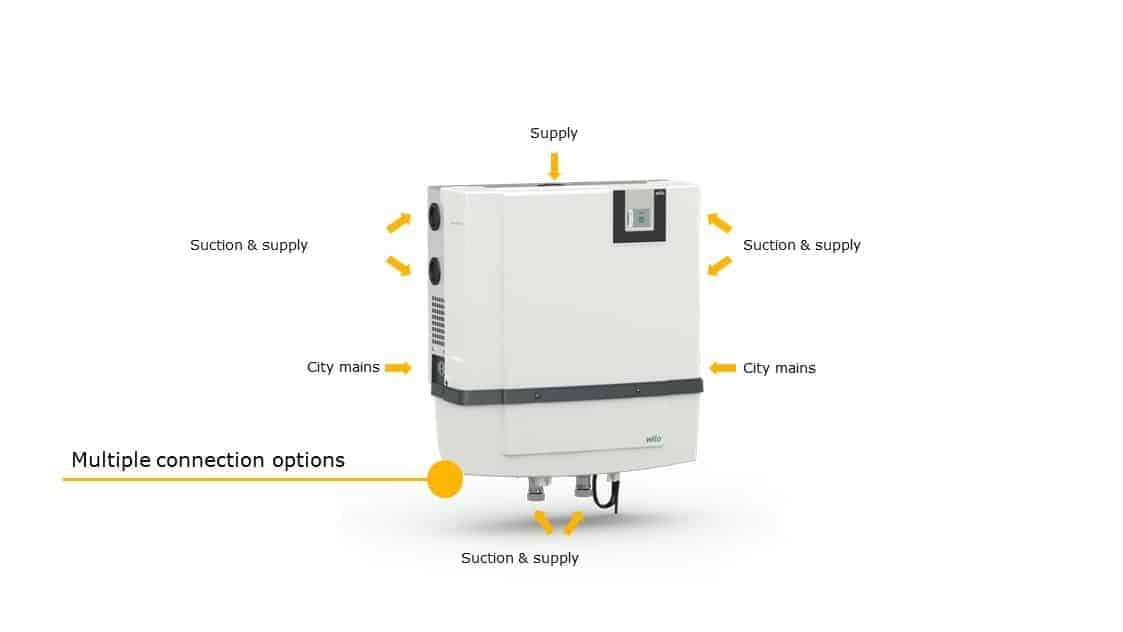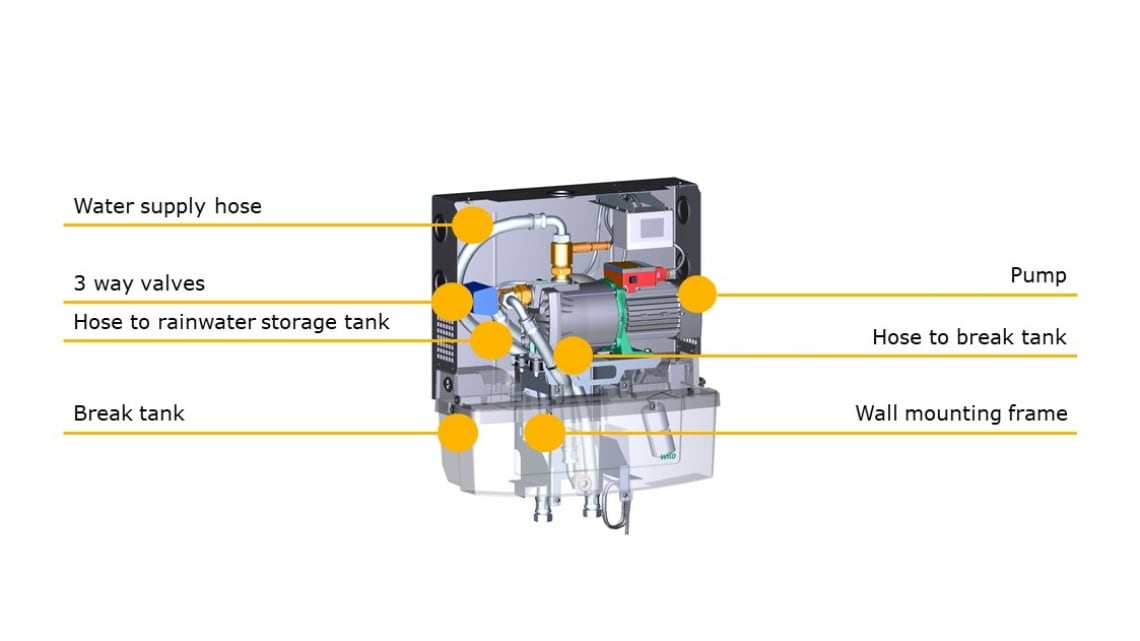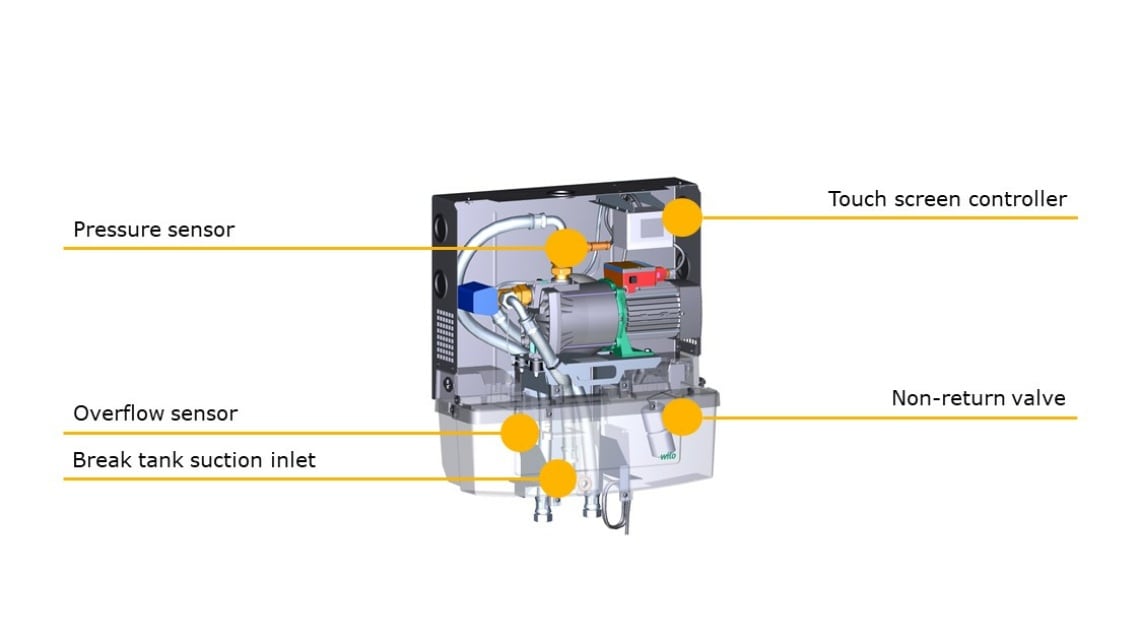 Is the new Wilo-RAIN3 series equivalent to the old one? Are the new products covering the same duty points?
Wilo-AF Comfort MC304 can be replaced by Wilo-RAIN3-24
Wilo-AF Comfort MC305 can be replaced by Wilo-RAIN3-25
Wilo-RAIN3-45 is a new version for higher volume flows in large residential buildings and light commercial
What is the standard scope of delivery?
Fixation material to hang the system on the wall
Operating instructions
4.20mA level sensor with 20m length cable. 30m cable length version available as accessory
2 stickers: "Do not expose to frost" and "No drinking water"
Why the overflow funnel is not provided anymore?
The break tank has 2 overflow drains, a flexible hose can be connected directly to the fitting beneath the break tank to drain overflow water towards wastewater. In case of clogging the overflow water can still flow freely through the big opening according to EN1717 standard. The water flooding risk is reduced thanks to this optimised design and the funnel becomes useless.
Wilo-RAIN3 has an overflow switch installed by default to warn the user if an overflow is detected in the break tank.
How often should the system be maintained?
Once a year it is recommended to:
Check the water tightness of the installation.
Drain the break tank and clean it.
Check the float valve filter and clean/replace it.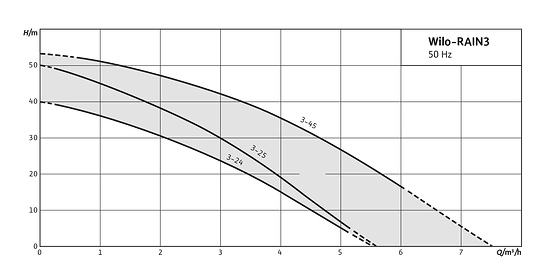 Wilo-RAIN3
---
Construction
Ready-to-plug single pump rainwater utilisation system
Application
Rainwater utilisation system is designed for applications that do not require drinking water supply such as:
Toilets flushing tanks
Washing machines
Garden irrigation
(Please check that the application complies with local regulations)
Equipment/function
Ready for connection module with compact construction, consisting of:
HiMulti 3 P self-priming centrifugal pump, mounted on a base frame with vibration absorbers
11 l break tank for fresh water replenishment with float valve
3-way valve
Front and rear cover
Connection on the pressure side, Rp 1" hose
Connection on the suction side, Rp 1" hose
Connection for municipal water supply network R ¾"
1.5 m mains connection cable and plug
4…20 mA filling level sensor with 20 m cable for rainwater level monitoring in the storage tank
4…20 mA pressure sensor
Overflow sensor installed in the break tank
Acoustic alarm
Potential-free contact available for optional external alarm or fault message
Relay for optional submersible pump (rainwater storage tank pump)
Electronic control device
Colour LCD touchscreen
Main functions:
Fully automatic rainwater utilisation
Operating and fault messages
Logging of the last 10 faults
Dry-running protection of pump
Self-priming support
Automatic water replacement break tank
Permanent display for the fill level in the rainwater storage tank, system pressure on the pressure side, operating status of the control interface
Scope of delivery
Ready-to-connect rainwater utilisation system with fixation material
Installation and operating instructions
4..20mA level sensor
Sticker "Do not expose to frost"
Sticker "No drinking water"
Type key
| | |
| --- | --- |
| Example: | Wilo-RAIN3-25 EM |
| Wilo | Brand name |
| RAIN | Rainwater utilisation system |
| 3 | Product level |
| 2 | Nominal flow rate Q in m³/h |
| 5 | Number of impellers |
| EM | Single-phase |
Technical data
Mains connection: 1~230 V, 50 Hz
Connection cable: 1.5 m length
Protection class: IPX4
Motor with integrated thermal motor protection probe
Max. operating pressure: 8 bar
Triggering pressure: 1.5 bar
Max. suction head: 8 m
Max. fluid temperature: +5 °C to +30 °C
Ambient temperature: +5 °C to +40 °C
Break tank volume: 11 litres
Nominal connection diameters:

Pressure connection Rp 1" thread, union nut
Suction connection Rp 1" thread, union nut
Connection for municipal water supply network at float valve R ¾" (male thread)
Materials
HiMulti 3 P:
Pump housing in Technopolymer
Impellers and stage casing made of Noryl 30% GF
Pump cover and shaft made of stainless steel
Mechanical seal made of ceramic/carbon
Description/construction
Ready-to-plug single-pump rainwater-supply unit as compact module for residential and light commercial buildings.
The system fulfils the criteria outlined in DIN 1989 and EN 1717.
All parts that come into contact with the fluid are corrosion resistant.
| Product description | Mains connection | Rated power P2 | Gross weight, approx. m | Article number |
| --- | --- | --- | --- | --- |
| | | | | |
| | | | | |