Comfort-Vario COR-2 MVIE 9503/2/SCe (3~380/400/460 V, 50/60 Hz)
Comfort-Vario COR-2 MVIE 9503/2/SCe (3~380/400/460 V, 50/60 Hz)
Технический паспорт
Гидравлические характеристики
Система управления

С частотным преобразователем

Макс. рабочее давление p

16 bar

Присоединение к трубопроводу с напорной стороны DNd

DN 200

Присоединение к трубопроводу на стороне всасывания DNs

DN 200

Число ступеней

3

Количество резервных насосов

1

Количество рабочих насосов

1

Мин. температура перекачиваемой жидкости Tmin

3 °C

Макс. температура перекачиваемой жидкости Tmax

60 °C

Температура окружающей среды мин. Tmin

5 °C

Макс. температура окружающей среды Tmax

50 °C
Данные электродвигателя
Допуск на колебание напряжения

400/50:+/-10%_380/60:+/-10%_460/60:+/-10%

Класс нагревостойкости изоляции

F

Класс защиты

IP55

Номинальная мощность электродвигателя P2

22000.00 W

Номинальный ток IN

39.90 A

КПД электродвигателя ηm 100 % ηM 100%

91.7
Материалы
Корпус насоса

EN-GJL-250

Рабочее колесо

1.4301

Вал

1.4057

Торцевое уплотнение

U3BE3GG

Материал уплотнения

EPDM
Информация о размещении заказа
Изделие

Wilo

Обозначение изделия

Comfort-Vario COR-2 MVIE 9503/2/SCe (3~380/400/460 V, 50/60 Hz)

Номер EAN

4048482968728

Артикульный номер

2552095

Масса нетто прибл. m

885 kg

Масса брутто прибл. m

997.0 kg

Длина с упаковкой

1900 mm

Высота с упаковкой

1950 mm

Ширина с упаковкой

1720 mm

Свойства упаковки

Транспортная упаковка

Вид упаковки

Транспортировочные рейки

Минимальный объем заказа

1
Описание изделия
Compact pressure boosting system according to DIN 1988 and DIN EN 806, for direct or indirect connection. Consisting of non self-priming, switched in parallel, vertically-mounted stainless steel high-pressure centrifugal pumps in glanded versions, for which each pump is fitted with a frequency converter. Ready for connection with stainless steel pipework, mounted on a base frame, including control device with all necessary measurement and adjustment equipment.
For fully automatic water supply and pressure boosting in residential, commercial and public buildings, hotels, hospitals, department stores and for industrial systems.
For pumping drinking water, process water, cooling water, fire water (apart from fire-extinguishing systems in accordance with DIN 14462 and with the approval of the local fire safety authorities) or other types of industrial water that do not attack the materials either chemically or mechanically and do not contain abrasive or long-fibre constituents.
Special features/product benefits
• High energy system efficiency thanks to IE4 motor and optimised hydraulics
• Disproportionately large frequency converter control range from 25 Hz up to a maximum of 60 Hz for a large field of application
• High reliability thanks to various protective features including overload protection, dry-running protection and automatic deactivation.
• Easy setting and operation with the SCe control panel thanks to LCD display, and green knob for adjustment.
• Ready for building automation integration with the SCe control panel via Modbus
Equipment/function
2-4 pumps per system of the MVIE (70 or 95) series with speed controlled motor via integrated frequency inverter on each pump.
SCe control panel ensures automatic control of the complete booster set.
All is mounted on galvanized steel height adjustable base frame.
All components in contact with fluid are corrosion resistant.
On pressure side:
• Shut-off valve
• Non return valve
• Check-valve at each pump
• Diaphragm pressure vessel 8 l, PN 16
• Pressure sensor 4..20mA
• Pressure gauge
On suction side
• Shut-off valve
• Pressure sensor 4..20mA
• Pressure gauge
Smart-Controller (SCe) in a sheet metal enclosure, protection class IP 54 consisting of an internal power supply unit, microprocessor with Soft PLC, analogue and digital inputs and outputs, for control of electronic pumps with frequency converters.
A working area of 1 m around the system is recommended in order to facilitate the maintenance process.
Operation/ display
• LC display (backlit) for display of the operating data, controller parameters, operating statuses of the pumps, error messages and history log
• Menu navigation with symbols and menu numbers
• LEDs for display of the system status (operation/fault)
• Factory-preset parameters for easy commissioning/start-up
• Configuration of operating parameters and acknowledgement of fault signals using red-button technology
• Lockable main switch
• Operation selectable with / without standby pump by customer service
• Elapsed time indicator for each pump and for entire system
• Switching cycle counter for each pump and for entire system
• Fault log for the last 16 faults
Control
• Fully automatic control for 1 to 4 frequency-controlled pumps by means of setpoint/actual value comparison
• Setpoint changeover: 2nd setpoint can be activated by contact
• External remote setpoint adjustment by 4…20 mA signal
• Automatic, load-sensitive cut-in of 1 to n peak-load pump(s) depending on the control variable pressure - constant, p-c or pressure - variable, p-v
• 2 parameter sets selectable, easy menu (setpoint & control mode) or expert menu (operation and control parameters)
• Operating mode of the pumps freely selectable (manual, off, automatic)
• Automatic, configurable pump cycling
• Standard setting: Impulse - The base-load pump is cycled at each new demand, regardless of operating hours
• Alternative: Pump cycling dependent on operating hours, cycling of the base-load pump after the specified operating hours
• Automatic, configurable pump test run (pump kick)
• Can be activated/deactivated
• Time between two test runs is freely programmable
• Disabling times can be programmed as desired
• Speed can be adjusted as desired
Monitoring
• Actual value of the system is output via a 0-10 Volt analogue signal for external measurement / display applications, 10 Volt depending on the sensor range value
• 4-20mA sensor signal (conductivity test of the sensor cable) for control variable actual value
• The pump mains power feed is protected via the circuit breaker
• Automatic changeover to the standby pump in the event of a operating pump fault
• Monitoring of maximum and minimum system values with adjustable time delays and limits
• Zero-flow test for switching off the system when no water is being drawn off (adjustable parameters)
• Pipe filling function for filling empty pipes (initial filling of the consumer network)
• Protection against low water level via contact e.g. for float switch or pressure switch
Interfaces
• Potential-free contacts for SBM/SSM collective operation and collective fault signals
• Logical reversal can be applied to SBM and SSM
• Contacts for external on/off, low water and 2nd Setpoint
• External on/off via contact for deactivation of the system's automatic mode
Optional accessories (factory installation or retrofitting after technical checks)
• Manual-0-Automatic switch Preselection of the operating mode of each pump and manual operation in the event of a controller fault "Manual" (emergency/test mode available at mains power, motor protection available), "O" (pump switched off – cannot be switched on using the controller) and "Auto" (pump enabled for automatic mode via the controller)
• Evaluation relay for PTC motor protection
• Individual operation and fault signal, low-water signal
• Signal converter for 0/ 2-10V to 0/ 4-20mA
• Soft starter for peak-load pumps
• Connection to BMS systems in accordance with VDI 3814
Recommended accessories (to be ordered separately)
• Optional WMS low-water cut-out switchgear kit;
• Flexible connection lines or expansion joints
• Break tank for system separation
• Diaphragm pressure vessel
• Threaded caps for systems with threaded joint tubing
Bus systems (optional)
• BACnet, LON bus, Modbus RTU
Standards followed
• Specifications for drinking water installations (TRWI) DIN 1988 (EN806)
• Diaphragm pressure vessel/ diaphragm expansion tank DIN 4807
• Electronic Equipment for Use in Power Installations EN 50178
• Electrical Equipment of Machines EN 60204-1
• Household and Similar Electrical Appliances - Safety EN 60335-1
• Low-voltage switchgear combinations EN 60439-1/ 61439-1
• EMC - Immunity for Industrial Environments EN 61000-6-2
• EMC - Emission Standard for Residential, Commercial and Light-Industrial Environments (EN 61000-6-3)
Эксплуатационные параметры
Перекачиваемая жидкость

Water

Количество насосов

2

Максимальное рабочее давление PN

16 bar

Давление на входе

10 bar
Данные электродвигателя
Номинальная мощность электродвигателя P2

22000.00 W

Номинальный ток IN

39.90 A

Номинальная частота вращения n

2900 rpm

Класс нагревостойкости изоляции

F

Класс защиты электродвигателя

IP55

Класс защиты прибора управления

IP54
Материалы
Корпус насоса

EN-GJL-250

Рабочее колесо

1.4301

Вал

1.4057

Уплотнение вала

U3BE3GG

Материал уплотнения

EPDM

Материал системы трубопроводов

1.4571
Установочные размеры
Присоединение к трубопроводу на стороне всасывания DNs

DN 200

Присоединение к трубопроводу с напорной стороны DNd

DN 200
Информация о размещении заказа
Изделие

Wilo

Обозначение изделия

Comfort-Vario COR-2 MVIE 9503/2/SCe (3~380/400/460 V, 50/60 Hz)

Масса нетто прибл. m

885 kg

Артикульный номер

2552095
Схема подключения
MHIE, MVIE, MHIE, MVIE 3~400 V ≥11 kW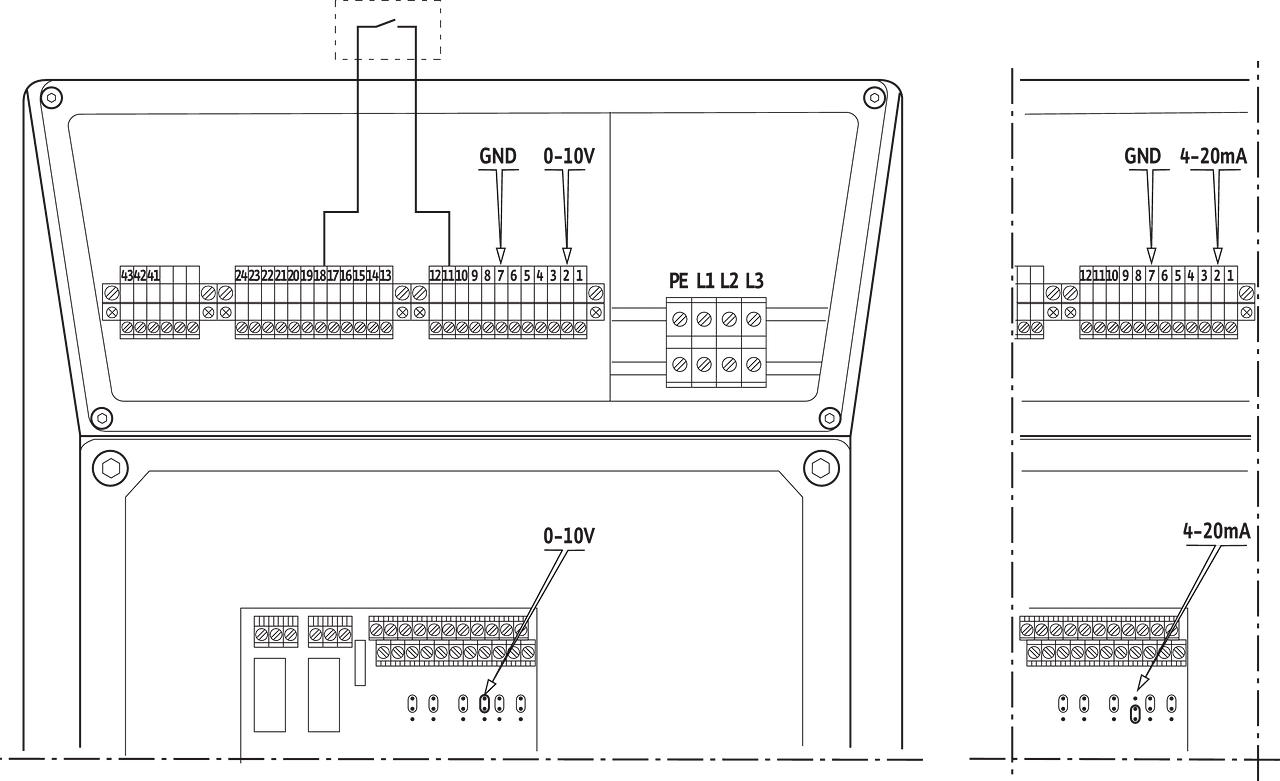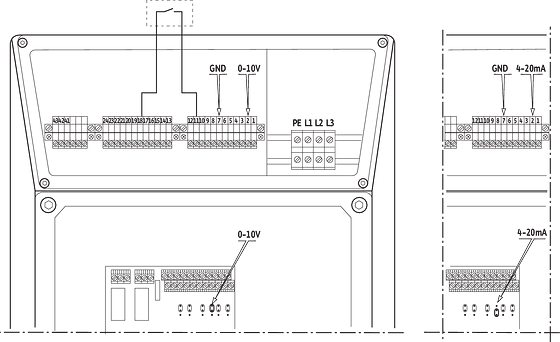 Данные для заказа
Information for order placements
Изделие

Wilo

Обозначение изделия

Comfort-Vario COR-2 MVIE 9503/2/SCe (3~380/400/460 V, 50/60 Hz)

Номер EAN

4048482968728

Артикульный номер

2552095

Масса брутто прибл. m

997.0 kg

Масса нетто прибл. m

885 kg

Общая длина L

1700.0 mm

Высота без упаковки H

1708 mm

Цвет

зеленый/черный/серебряный

Свойства упаковки

Транспортная упаковка

Вид упаковки

Транспортировочные рейки

Количество на один слой

1

Ширина без упаковки L

1640.0 mm

Минимальный объем заказа

1

Количество на палету

1