DEAR LADIES AND GENTLEMEN,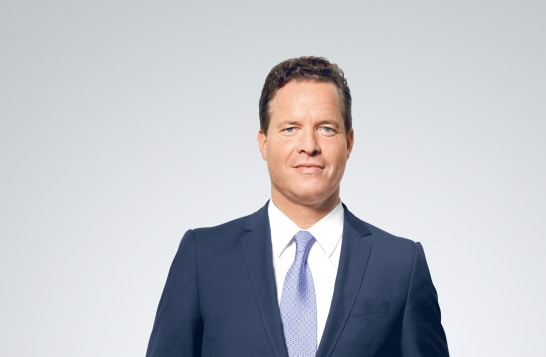 With a long-term strategic focus, excellent Group-wide positioning and an established economic growth path, the Wilo Group can look back on a successful financial year full of positive events. Wilo generated record net sales for the ninth year in succession. In numerical terms, consolidated net sales increased by 6.2 percent after adjustment for exchange rate effects to over EUR 1.46 billion.
We are enjoying excellent growth in Korea, India, the Middle East and Eastern Europe in particular, with Poland the outstanding performer in this region.
As part of our "Ambition 2025" corporate strategy, we are systematically realising extensive investments in our infrastructure. Wilo is driving the digital transformation in three dimensions: products and solutions, processes, and business models.
Like many companies, Wilo is also working and developing in a wider geopolitical context that is full of challenges at present.
We are taking a stand
One of the most important tasks currently facing European politicians and, in particular, businesses is the need to create and support an alliance that will uphold the multilateral world order. Peace, freedom, solidarity and partnership must remain the foundations of a stable Europe in future.
The free world economic order is the backbone of global companies like Wilo. The Wilo Group generates around 80 percent of its net sales outside its home market of Germany. Over 50 percent of our economic output now takes place in the emerging markets. In other words, we have a vital interest in ensuring the continued existence of the multilateral world order and free global economic structures. As a company and as entrepreneurs, we take a clear stand on this matter. We seek out dialogue between business and politics and continuously demonstrate that the challenges of our time, such as digitalisation, climate change and water and energy shortages, can only be overcome with a global approach. Wilo also expressly supports the German business initiative "We4Europe". Together, we are acting to support a strong and open Europe.
We are networkers
Between burgeoning nationalistic tendencies, populism and protectionism in a complex world full of challenges, our proven and reliable alliances are at stake. The Wilo Group is standing up to this development with self-confidence. To this end, we have significantly intensified our networking in respect of political institutions, non-governmental organisations, partnerships with global companies and our membership of international associations. I would like to cite three examples that describe our approach in greater detail:
Following the business conferences in Sochi in 2017 and St. Petersburg in 2018, I again met Russian President Vladimir Putin as part of a delegation to the Kremlin. The topics discussed included partnerships with Russian companies, which form a key element of our local strategy in this market that is so important to us.
Together with the German Ambassador in Abu Dhabi, we visited His Excellency Saeed Al Tayer, CEO of DEWA (Dubai Electricity and Water Authority), in the United Arab Emirates. Dubai is set to become a global centre for efficient energy and water management systems. DEWA is seeking to establish a close strategic partnership with German manufacturers like Wilo in the areas of energy and water management.
We also strengthened Franco-German links by welcoming French Ambassador Anne-Marie Descôtes to a dialogue on networks, location development and the expansion of Franco-German relationships in the area of Industry 4.0.
In a world characterised by division and national interest, I am personally extremely keen to highlight these examples of how Wilo is taking a diametrically opposed approach. We are making connections, creating networks and seeking out international cooperation. We are confident that this is the right way to go about things: working in concert with others, not alone and in isolation.
And our success proves us right. We have gained some major international projects not least thanks to this intensive networking. As part of our smart urban area approach, we are currently realising substantial growth opportunities in urban centres that are becoming increasingly connected. These are future markets in which urban infrastructure and areas of life will be connected with one another intelligently. As a digital pioneer in the pump industry, Wilo is also developing energy-efficient, resource-conserving and smart solutions for the requirements of these markets.
We are on course for success
To achieve the strategic objectives forming part of Ambition 2025, we are currently pursuing a number of important projects. Specifically, these take the form of eight growth initiatives, seven sales efficiency projects and two cost initiatives.
The growth initiatives are necessary if we are to remain stronger than the competition in future. They form part of our strategy of harnessing profitable growth to gain market share in the emerging economies in particular and to defend it in the mature economies. We are adopting different regional focal points across the eight initiatives, thereby intensifying our efforts to drive globalisation. We are also pressing ahead with our business activities by covering every area of application across all market segments in order to comprehensively serve our customers with our product and solution portfolio. Among other things, the seven sales efficiency projects are aimed at making the integration of the acquired Weil & Scot companies in the USA as efficient and profitable as possible. We are already well on the way to achieving this. Wilo USA will already be one of the most profitable companies in the Group next year.
Another project, "Vamos Latam", is addressing the restructuring of our subsidiaries in Mexico and Brazil. We are stabilising our activities in Argentina while simultaneously leveraging business potential in Chile, Colombia, Cuba, Panama and Uruguay. In France, the "Boost" project is modernising our sales and logistics processes and we have decided to focus on a single brand in future: Wilo.
We have good reason to be optimistic for the future. Even with all the technological progress of the digital age, people remain the most important factor for success. We can achieve our targets and strengthen the Wilo Group's leading position on the global markets only with the hard work and dedication of our employees. On behalf of my colleagues on the Executive Board, I would like to take this opportunity to thank the entire international Wilo team for their outstanding personal commitment.
Allow me to finish with a brief word about my own professional development: In late 2018, Dr. Jochen Opländer, honorary chairman of the Supervisory Board and founder of the Wilo Foundation, named me as his business successor. I have accepted this task with great pride and in awareness of the immense trust that is being placed in me. Alongside my role as Chairman of the Executive Board and CEO of the Wilo Group, it is a great honour for me to be given the opportunity to succeed Dr. Opländer. I will make every effort to continue the company's successful history dating back almost 150 years in line with the Opländer family's values.
Yours,
Oliver Hermes
Chairman of the Executive Board & Chief Executive Officer (CEO)