FEBRUARY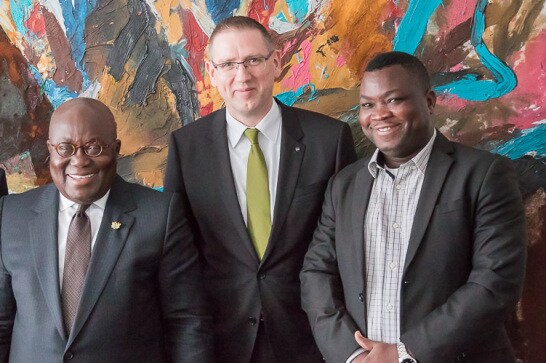 A DISTINGUISHED GUEST
The President of the Republic of Ghana, Nana Addo Dankwa Akufo-Addo, visited Wilo in Dortmund together with a delegation of his ministers. During the meeting, he was informed by Wilo CTO Georg Weber about the latest technological developments and Wilo's activities in Africa, and especially in Ghana. "In our country, the topics of wastewater treatment and drinking water quality are of paramount importance," said Akufo-Addo. He had noticed that Wilo has been intensively addressing the area of water shortage for many years: "In our country, we have already taken significant steps in this regard using your products." Ghana has become an important market for Wilo. "We have been active since 2011," added Georg Weber. "We see enormous potential here. Ghana has a stable democracy and is a reliable partner for us in the region."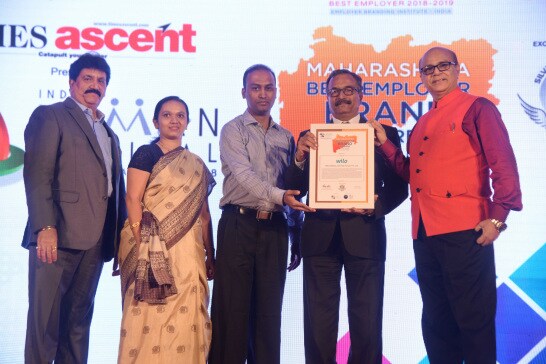 WILO INDIA RECOGNISED FOR SUCCESSFUL
EMPLOYEE COMMUNICATIONS
Wilo India won the Maharashtra Best Employer Brand Award at the 26th World HRD Congress. This award is given to companies that successfully use their marketing communications in a targeted manner to attract and retain employees and offer them development opportunities. The Best Employer Brand Award is presented for various regions at the international congress for human resourced evelopment.
MARCH
WILO AND DEWA TO INTENSIFY THEIR COOPERATION
At a meeting in Dubai, DEWA CEO Saeed Mohammed Al Tayer and Wilo CEO Oliver Hermes agreed to intensify their cooperation. The "Dubai Electricity and Water Authority" (DEWA) is responsible for realising the vision of His Excellency Sheikh Mohammed bin Rashid Al Maktoum, Vice President and Prime Minister of the United Arab Emirates and Ruler of Dubai, by implementing development projects and strategic initiatives. Dubai is set to become a global centre for efficient energy and water management systems. "We are extremely pleased at having been invited to this exchange of views with His Excellency Saeed Al Tayer and the prospect of working with DEWA on future-oriented projects in Dubai," said Oliver Hermes following the meeting. "Dubai is taking the lead in the smartification of urban regions. We have the right solutions to make a contribution in the area of building services and energy and water management."
MAY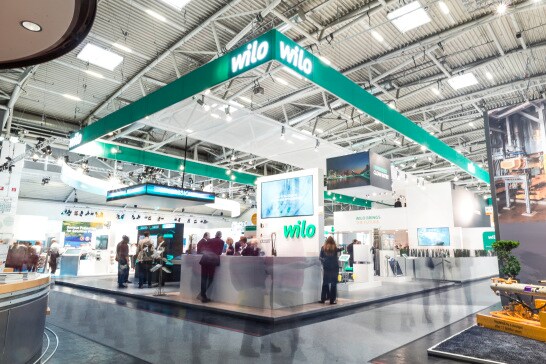 SOLUTION PROVIDER FOR THE FUTURE
At the world's leading trade fair for water, wastewater, waste and raw materials management, the IFAT in Munich, Wilo presented new, customised and increasingly digital solutions for sustainably handling water – like the Wilo-Rexa SOLID-Q in combination with Nexos intelligence, a connected system solution for wastewater disposal. This year, Wilo broadly focused on overarching, connected solutions rather than individual products. Wilo is increasingly using sustainable methods in the area of water extraction, such as the integration of renewable energies.
JUNE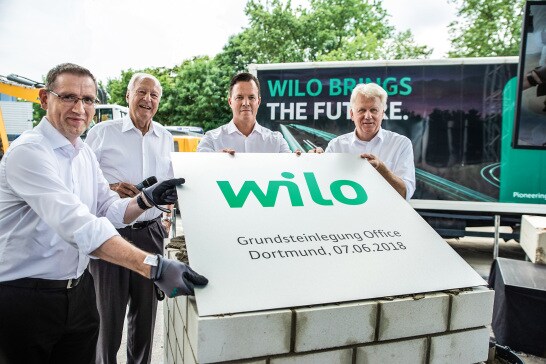 LAYING ANOTHER MILESTONE
In the presence of Dortmund's mayor Ullrich Sierau and a further 80 guests, the laying of the foundation stone for the new "Office 2020" represented another milestone in the implementation of the biggest location development programme in the company's history. "With this pioneering project, the Wilo Group is highlighting the importance of Dortmund as a location for business and technology," said Sierau. "There are not many cities in Germany these days that can count on the loyalty and affinity of its largest private employer. This deserves our heartfelt gratitude."
OLIVER HERMES APPOINTED NEW
CHAIRMAN OF NUMOV
The German Near and Middle East Association (NUMOV) is Germany's oldest and largest organisation for economic development between Germany and the countries of the Middle East. The Wilo Group is a long-standing member of NUMOV. Having been a member of the NUMOV Executive Board and its Deputy Chairman for around four years, Wilo CEO Oliver Hermes was elected as the new Chairman at NUMOV's 2018 Annual General Meeting. "We will press ahead with NUMOV's highly successful work and continue to strengthen and expand the bilateral cooperation between Germany and the Middle East region," said Hermes following his appointment.
AUGUST
A NEW BUSINESS PLATFORM IN CENTRAL ASIA
Wilo opened its new location in Almaty in the presence of high-ranking representatives of the Kazakh government. Wilo will use its base in the city to develop and support customers and markets both in Kazakhstan and throughout Central Asia. "Our investment in the new site in Kazakhstan forms part of our intensified global localisation strategy. It will strengthen our competitive position not just in Kazakhstan, but in the entire Central Asian region. As a central hub, Kazakhstan will serve as a platform for our business activities in this area," said Oliver Hermes, CEO and Chairman of the Executive Board of the Wilo Group.
SEPTEMBER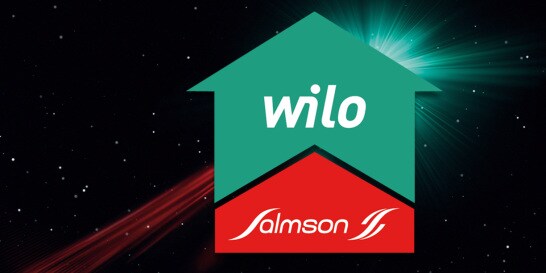 SALMSON BECOMES WILO
The French brand Salmson has belonged to Wilo SE since 1984. The Wilo and Salmson brands were previously marketed side-byside. Now Wilo has decided to concentrate all activities under the Wilo brand. "Adapting the positioning of our brands is a key part of our strategy of global development with a local presence. This will enable us to sustainably strengthen our position in France and in other markets, particularly Italy, Africa and Argentina," explained CEO Oliver Hermes.
OCTOBER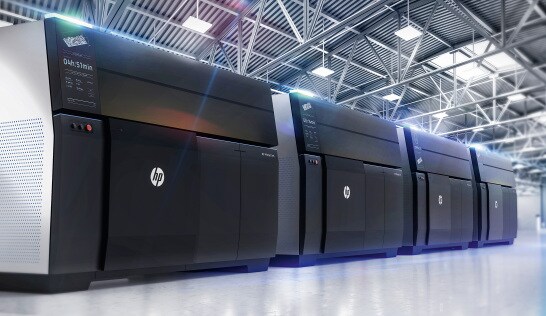 A PIONEERING PARTNERSHIP
In partnership with the US printer manufacturer HP, Wilo will become the first company from the pump industry to use 3D printing to produce high-quality metal parts in significant numbers. "The HP Metal Jet is up to 50 times more productive than other 3D printing methods at a lower cost. We are delighted and proud to be a partner of this pioneering technology right from the start," explained Georg Weber, Chief Technology Officer. The new technology is an important step in the process of gearing the operational strategy towards Industry 4.0. Wilo already uses 3D printing to produce hydraulic parts such as impellers, diffusers and pump housings with varying dimensions.
NOVEMBER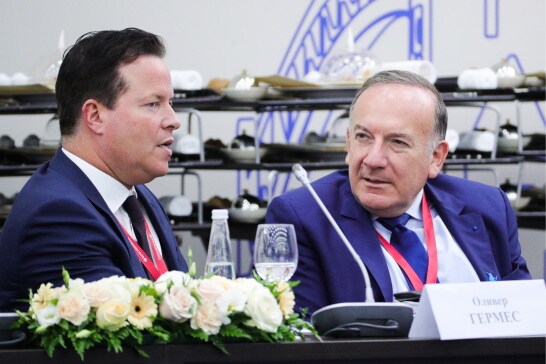 A LOGICAL STEP
Wilo has agreed to intensify its partnership with Transneft, the state-owned Russian oil pipeline operator. "We are delighted that our relations in Russia are developing so positively and that Wilo is able to pursue its localisation strategy in a straightforward manner as a result," commented Oliver Hermes, CEO and Chairman of the Executive Board of the Wilo Group. "Expanding our business activities with Transneft is a logical step." The meeting with representatives of Transneft in Moscow was agreed last year as part of talks between Oliver Hermes, Russian President Vladimir Putin and Denis Manturov, Minister of Industry and Trade. Last October, Wilo signed a special investment contract to strengthen its competitive position in the Russian market by gaining 'local manufacturer' status. Localisation will be further intensified through future investments in Wilo's Russian sales and production site in the city of Noginsk near Moscow, from where Wilo Russia provides customers throughout the Eurasian region with pump technology products and solutions.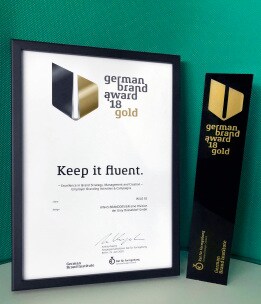 GOLD FOR WILO
Wilo won Gold in the renowned German Brand Award for its end-to-end employer branding campaign. The jury reserved particular praise for the company's holistic approach to brand management: "A visionary brand story is retold. Following the 'Wilo brings the future' campaign, Wilo presents itself as an employer that is geared towards the future." In preparation for the 'Keep It Fluent' campaign, Wilo had conducted extensive studies in order to understand the wishes and goals of its workforce. This insight formed the basis for the final component of its brand communication: "Move minds. Move water. Move the future."
DECEMBER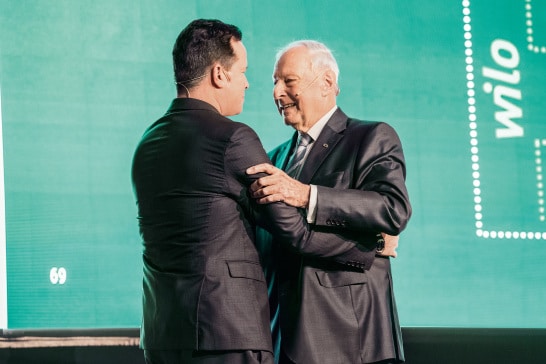 DR. JOCHEN OPLÄNDER NAMES OLIVER HERMES AS HIS BUSINESS SUCCESSOR
Dr. Jochen Opländer, shareholder and honorary chairman of the Supervisory Board of WILO SE and founder of the Wilo Foundation, named Oliver Hermes, CEO and Chairman of the Executive Board of WILO SE, as his business successor. He also granted Oliver Hermes, who has been a member of the Executive Board since October 2006 and its Chairman for a number of years, an entrepreneurial equity participation in WILO SE. Furthermore, Dr. Jochen Opländer appointed him as the Chairman of the Board of Trustees of the Wilo Foundation with effect from 13 April 2019 until his 75th birthday. The family foundation holds the majority of shares in WILO SE. "Oliver Hermes will take over from Prof. Hans-Jörg Bullinger, who is stepping down from the Board of Trustees having reached the age limit for members," explained Dr. Jochen Opländer. He expressed his warm gratitude to Prof. Bullinger for his many years of successful work at the head of the foundation. "Over the course of our long professional cooperation, Oliver Hermes and I have also developed a close personal friendship," said Dr. Jochen Opländer. "Oliver Hermes represents and lives by the personal and professional values of Wilo that embody the Opländer family's guiding principles."