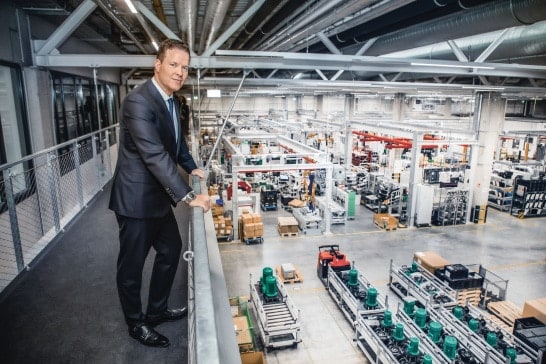 The Earth is getting dramatically warmer. Extreme weather, heatwaves, storms, droughts, floods: Global climate change is becoming increasingly visible and tangible, including in Europe. There have been fluctuations in the climate throughout history, but never before have rising temperatures occurred around the world simultaneously and at such speed. This is why it is time for pioneers to take the lead and pursue new approaches.
By Oliver Hermes
Climate change is the biggest challenge of the 21st century. Experts from the Intergovernmental Panel on Climate Change warn of severe consequences if global warming rises by more than 1.5 degrees. What makes this development particularly problematic is the pace at which it has been increasing over the past 20 years. In terms of the proportion of CO2 in the atmosphere, we are now as far removed from the 18th century as the 18th century was from the last ice age, more than 10,000 years ago.
According to the Intergovernmental Panel on Climate Change, things get even more dangerous once the figure of 1.5 degrees is exceeded: Biomass in thawing permafrost in Northern Canada, Alaska, Greenland and Eastern Siberia would release billions of tonnes of additional CO2, as would wide-scale forest fires in the tundra or the tropics. Melting Arctic ice could indirectly cause the Gulf Stream to fail. These "climate tipping points" would trigger one crisis after another, all while the Earth gets progressively hotter. But even scientists are unable to say exactly when this will happen. The processes underlying climate change are too complex, and the factors influencing the future climate are too unpredictable.
However, experts say that we still have the power to influence how serious the effects will be over the coming decades. Immediate and sustainable action can mitigate the impact of climate change. These are the findings of a recent report by the European Environment Agency (EEA). The consequences will be less dramatic if rising temperatures are slowed. This requires limiting global warming to significantly below two degrees by reducing greenhouse gas emissions. This is one of the goals set out in the Paris Agreement, which was supported by almost 200 states in 2015.
As with all developments, time is an incredibly important factor. Current events are moving extremely fast. One opportunity for limiting climate change, at least, is provided by one of the biggest technological upheavals of our time: digitalisation. This can make a major contribution to transforming the economy in favour of greater ecological sustainability.
German companies are Europe's biggest investors in climate protection
In 2019, almost 900 major companies from Europe invested around EUR 124 billion in reducing their CO2 emissions or announced investments of this nature. Of this figure, EUR 59 billion was invested in low-carbon technologies and EUR 65 million in the corresponding research and development. These are just some of the findings presented recently by the Carbon Disclosure Project (CDP), an independent non-profit organisation that has been collecting data on companies' emissions and climate strategies for several years. One ray of hope is that, according to CDP, no other European country saw higher investments in cutting CO2 emissions than Germany. The capital investments by the 69 German companies included in the study amounted to EUR 44.4 billion or around 36 percent of the total. Spain was ranked second (EUR 37.9 billion) and Italy third (EUR 24.3 billion), with France, Denmark and the United Kingdom following some way behind.
These figures show that more and more countries are taking the transition to low-carbon technologies seriously as a means of reducing emissions. They also illustrate the extremely important role of companies in determining whether the EU reaches its climate targets. According to CDP, however, companies will have to more than double their annual investments in low-carbon, climate-friendly and sustainable technologies from 12 percent to 25 percent, i.e. from EUR 59 billion to EUR 122 billion, in order for the ambitious net-zero carbon target to be achieved by 2050 as planned.
Investments in climate protection unlock significant business potential
Investing in climate protection is also a smart move from an economic perspective. Corporations estimate the business opportunities resulting from the development of low-carbon and energy-efficient products and services at more than EUR 1.2 trillion. This is six times higher than the associated investment costs of around EUR 192 billion.
Climate protection as a part of corporate culture
Climate change is fundamentally altering the demands made of companies in terms of products and processes alike. The Wilo Group responded to these changes many years ago with a wide-reaching package of measures and appropriate structures and technologies. Climate protection forms part of Wilo's business model. Sustainable thinking and action are required as a matter of principle when working with the valuable resources of water and energy and addressing climate protection, and both are rooted in Wilo's corporate culture.
Today, Wilo is playing a pioneering role in climate protection while alsotaking advantage of the associated business opportunities. Our fundamental understanding of our role as a climate protection company is reflected in Wilo's corporate strategy as well as an explicit sustainability strategy. Our innovative products and the digital transformation of the entire Group are the visible results of our long-term approach with a focus on energy and resource efficiency. Wilo's reduced ecological footprint is an important lever.
According to realistic estimates, pumps are thought to account for around 10 percent of the world's electricity consumption. The majority of the pumps used today are outdated and inefficient. Vast potential for energy and CO2 savings can be leveraged by exchanging obsolete technology for the latest generation of modern high-efficiency pumps. Globally, this could save up to 246 TWh in electricity for heating, cooling and air conditioning applications alone – equivalent to the capacity of around 80 medium-sized coal-fired power plants that would no longer be required. Accordingly, our climate protection objectives include significantly reducing energy consumption by using energy-efficient Wilo system solutions to the greatest possible extent.
Solutions worthy of the name
Mitigating and offsetting the ecological, economic and social impact of climate change requires a strong economy. Not only that, but a responsible economy that is willing to commit to a challenging and complex task like this and cooperate across national borders to find solutions worthy of the name. More than ever before, the world's climate needs enthusiastic pioneers who are as courageous as they are determined. Germany can take on this leading role within the context of European cooperation.
The Wilo Group is making an important contribution to achieving this together with our partners and as part of international cooperations. And we are doing more besides. The United Nations Environmental Report estimates that around 1.8 billion people will live in regions with severe water shortages by 2025 and this figure is on the rise. Here, too, climate change is exacerbating the problem. Between now and 2025, Wilo will therefore ensure that around 100 million people have better access to clean water thanks to our innovative and smart products and intelligent systems, solutions and services. Wilo is helping to modernise the world's water supply and energy systems and make them fit for the future.
Better access to clean water for 100 million people
It has taken barely 50 years for climate change to develop from a footnote into the most important item on the agenda. People around the world are successfully developing and implementing climate protection solutions that work. Time is undoubtedly short. But the Wilo Group remains confident that climate change and its consequences can be slowed down and the ambitious global climate protection targets achieved.