PART OF THE CRITICAL INFRASTRUCTURE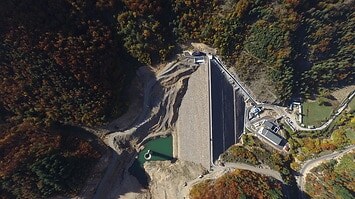 Wilo supplies critical infrastructure for airports and dams, administrations and hospitals, and agricultural and industrial applications around the world.
Our civilisation would be unthinkable without modern water infrastructure. From heating to hygiene, from agriculture to drinking water – key areas of life would grind to a halt without pumps and pump systems. The coronavirus crisis underlined just how important Wilo's solutions and products are for our society. This is also clearly reflected in the fact that Wilo is classified as a systemically important company in many countries.
In 2020, Wilo continued to deliver on this remit by installing millions of pumps and system solutions and completing numerous projects around the world. Wilo pumps were used in Bulgaria's first dam project for drinking water, which is now helping to supply more than 40,000 people with fresh water.
36 pumps each with an output of 3 MW were installed as part of the Narmada-Malwa-Gambhir River Linking Project in the Indian state of Madhya Pradesh. Across several levels, the large vertical turbines move an impressive 54,000 cubic metres of water every hour, thus enabling large-scale agricultural irrigation as well as water supply for the local population.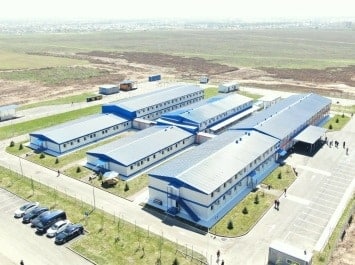 Around twelve million euros was provided by the Government of Kazakhstan in March 2020 for the construction of a modular hospital for infectious diseases to help combat the coronavirus pandemic. The hospital in the capital city of Nur-Sultan is around 7,000 square metres in size and was completed in just 13 days, allowing it to commence operations in April.
To meet the specific requirements under pandemic conditions, the modular construction took particular account of the safety of medical staff and patients. It also included a medical gas system and a low-temperature station, an oxygen station and a compressed air station. In response to the specific challenges of handling respiratory diseases, which are particularly common in patients with coronavirus infections, the project included the construction of a hundred special chambers in which life-saving mechanical ventilators can be used simultaneously. These are supplemented by several intensive care units. In addition, a Wilo pressure-boosting system with three horizontal multi-stage high-pressure centrifugal pumps works around the clock to ensure continuous hospital operations. The system is responsible for water supply and disposal at the hospital and also feeds a drip irrigation system and the fire-extinguishing system.
In addition to the pilot project in the Kazakh capital, Wilo pumps and system solutions are used in a further 15 hospitals around the country, including in the major cities of Almaty and Shymkent.
When it counts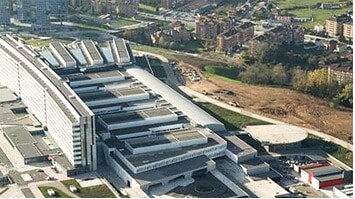 Dependable building services are an essential element of every hospital. They need to work reliably, 24 hours a day, every day – as a matter of life and death.
Wilo has been fitting out hospitals for several decades now. This expertise became all the more relevant in the year of the coronavirus pandemic. In Russia alone, more than 70 hospitals specialising in combating the pandemic and its consequences have been fitted out with state-of-the-art pump technology from Wilo. This extraordinarily high order volume was thanks to Wilo's excellent product quality, extensive experience and comprehensive services as well as its outstanding delivery performance. Wilo continued to guarantee full delivery capacity even under the difficult conditions imposed by the pandemic.
In Germany, Wilo technology was installed at the St. Franziskus Hospital in Münster this year. More than 40 Wilo-Stratos MAXO pumps were chosen in part because of the remarkable system efficiency they offer as the most state-of-the-art and efficient generation of pumps. This means reduced electricity consumption and hence lower costs for the hospital.
The considerations for the Black Lion Hospital in the Ethiopian capital, Addis Ababa, were very different. The hospital looks after around 400,000 patients every year. However, it has experienced such serious problems with its pump system over the past eight years that nurses were having to carry water to the upper floors in buckets. Following the installation of a new Wilo pressure-boosting system, these conditions are thankfully a thing of the past, and a reliable and efficient water supply is guaranteed – on every floor.