WILO PROFILE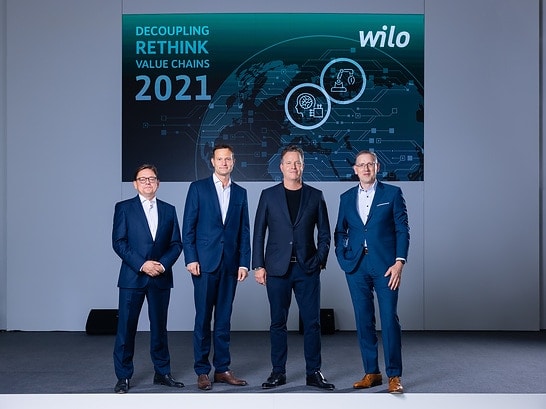 The Wilo Group is one of the world's leading premium suppliers of pumps and pump systems for the building services, water management and industrial sectors. In the past decade, we have developed from a hidden champion into a visible and connected champion. Today, Wilo has 8,200 employees employees worldwide.
Our innovative solutions, smart products and individual services move water in an intelligent, efficient and climate-friendly manner. We are also making an important contribution to climate protection with our sustainability strategy and in conjunction with our partners. We are systematically pressing ahead with the digital transformation of the Group. We are already the digital pioneer in the industry with our products and solutions, processes and business models.
RE-
THINK
Difficult times call time-honoured certainties into question. We are at a turning point that is characterised by increased regionalisation and growing international tension. Wilo is addressing the current challenges with entrepreneurship. We are investing in resilience to make us even better equipped for future crises, and we are consistently expanding our global network. This will allow the Wilo Group to continue to enjoy sustainable growth.
THE DIMENSIONS OF DECOUPLING
International cooperation declines, alliances crumble, economic bridges between nations are torn down – decoupling is one of the greatest business challenges of our time. It affects the economy and society at four different levels and requires decisive entrepreneurial action.