Wilo is making an important contribution around the world in the fight against the coronavirus pandemic. Our products, solutions and services are used in many system-relevant and critical infrastructures. In many countries around the world, we were granted a corresponding status enabling us to maintain our production sites everywhere, even if the country in question had to comply with strict rules and was affected by so-called "lockdowns". This page contains a selection of current projects that both the Wilo Group and the Wilo-Foundation have implemented and supported in recent weeks.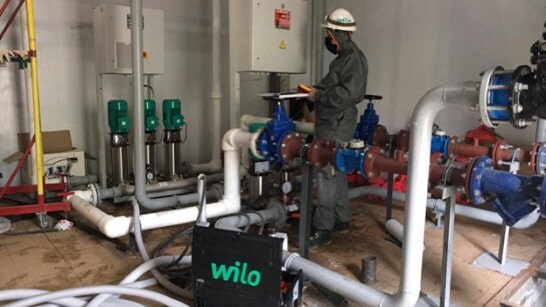 Wilo supports more than 70 medical institutions for patients with COVID-19 in Russia
In Russia, too, Wilo products, solutions and services are being used in the fight against the coronavirus and its effects. A new hospital, for example, close to Moscow is currently being built where Wilo pumps are making sure that everything runs smoothly. Service technicians have now performed a visual inspection of the units consisting of Wilo-Helix V 1603/SK-FFS-R-05 and Wilo-Helix V COR-3 1606/Skw-EB-R pumps and put them into operation. Effective immediately, the unit will be used to ensure reliable functioning of the water supply and fire-extinguishing system in the hospital.
For Wilo Russia this was not the first project in the fight against the coronavirus. More than 70 hospitals specialising in combating the effects of the pandemic had already been fitted with modern pump technology. In addition to the high level of product quality and the extensive range of services in this regard, Wilo also benefited from excellent delivery performance made possible by short-term project support.
Wilo has been firmly rooted in Russia for over 20 years and has even taken on a degree of social responsibility in the region, for example, by supporting important, life-sustaining institutions such as hospitals and equipping them with suitable solutions. Among other things, for example, a district hospital in Noginsk in the Greater Moscow region has received financial support with the procurement of urgently needed medical equipment.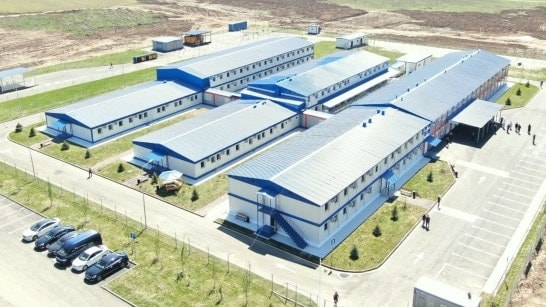 Wilo pumps for 15 coronavirus hospitals in Kazakhstan
In the fight against the coronavirus, the Kazakh government has provided around 12 million euros for the construction of a modular hospital for infectious diseases. In the space of just 13 days, the 7,000 m² hospital in the capital Nur-Sultan was finished and opened its doors back in April.
In order to meet the special requirements, particular emphasis was placed on ensuring the safety of the medical personnel and patients in the modular construction. A medical gas system, a low-temperature station, an oxygen station and a compressed air station were all integrated. For the particular challenges associated with respiratory diseases, which are common in cases of coronavirus infection, 100 special chambers were set up in the project where life-saving, mechanical ventilation equipment can be used at the same time. These are supplemented by several intensive care units. In addition, a Wilo pressure-boosting system operates around the clock with three horizontal, multistage Wilo-Helix MHI 1603 pumps in order to ensure operation in the hospital. The multistage pumps ensure water supply and disposal in the new hospital and feed a drip irrigation and fire extinguishing system. The hospital was officially opened by Kazakh president, Kassym-Jomart Tokayev, who thanked everyone involved in the construction and design process for the quick turnaround.
Alongside the pilot project in the Kazakh capital, three further hospitals have also been constructed thanks to Wilo, and 12 additional new hospitals, among other things, are in the pipeline for the large cities of Almaty and Shymkent. Here, too, Wilo, with its solutions and services, is set to make a significant contribution in the fight against the coronavirus.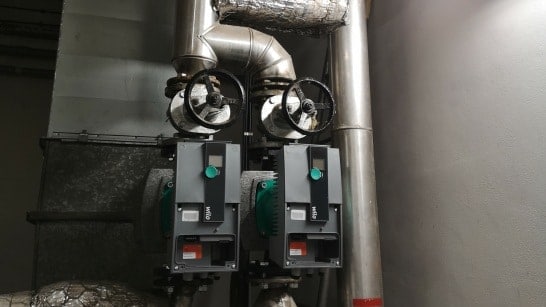 A solutions provider in times of crisis
During the COVID-19 pandemic, we rely on the expertise of hospitals and their medical staff. It is inevitable, that their work can proceed uninterrupted. We're beating COVID-19 by sharing resources, together we can make a difference. Wilo wants to give something back to system relevant institutions, so that they can rely on our expertise as a solutions provider, especially during these challenging times: in order to support local hospitals, Wilo Poland has given increased priority to assistance in dealing with service and maintenance issues. Wilo CS followed the good example and established similar effort in the Czech and Slovak Republic. Apart from the donation of pumps, the support comprises the priority handling of service cases as well as free of charge pump replacement.
A similar project was realized by Wilo Romania: to optimise the working conditions on site, the colleagues offered support for the modernization of the operating room in one of the biggest hospitals in Bucharest.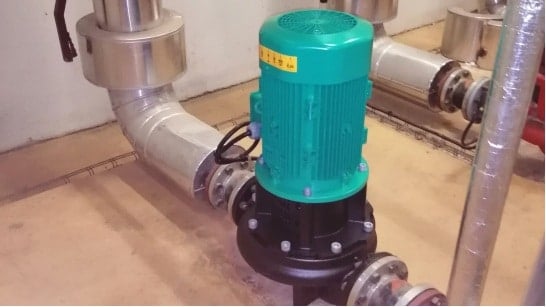 Wilo France shows solidarity to fight COVID-19
Our products, systems and solutions allow us to ensure the activities of our customers, particularly those in charge of hospitals, nursing homes, and water treatment stations. Since every employee is working relentlessly, to make the Wilo Group meet its obligations to society, Wilo France contributed in supporting local institutions while challenging the Covid-19 pandemic.
This comprised an increased support for hospitals all over France: Wilo France shows solidarity , for example with urgent replacements for a smooth operation.
As clean water is of utmost importance when fighting Covid, a 19-storey collective housing block has also been equipped with a high-efficient booster, ensuring a proper drinking water supply to 150 apartments.

#helphospitals in the fight against the pandemic
The global pandemic has shifted the perception of what is important. Lately, BEING has become more important than HAVING to many of us. Our colleagues in Wilo Poland have conducted several activities which would have been unconventional back in the days – all inspired by the general lockdown due to COVID-19. Following the slogan #pomagamspzitalom (#helphospitals), our Polish colleagues support public hospitals in the fight against the pandemic. By example through free of charge repairs to sustain uninterrupted operation. During a period of 6 months they've successfully supported 6 hospitals already – in Warsaw, Gdànsk, Bydgoszcz, Piaseczno and Lublin.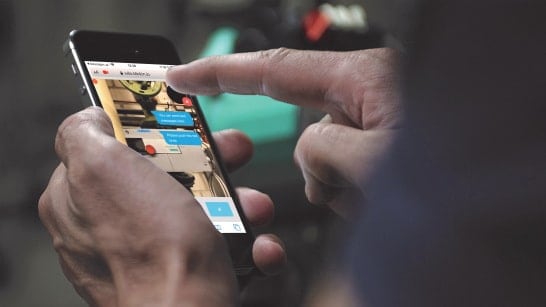 Wilo-Live Assistant
As digital pioneer in the pump industry, with the Wilo-Live Assistant Wilo has brought to market a unique service previously never seen before in this form. The digital assistant allows Wilo consultants to support customers in need of a service at any time and from almost anywhere in the world. The Wilo-Live Assistant therefore enables professional support to be delivered by such consultants, for example, when it comes to installing equipment or performing a service, without being there in person – a solution especially in coronavirus times actively used by Wilo to fight the pandemic.
Optimum service despite social distancing
Even in times of the Corona crisis, the work on heating, water supply and sewage disposal systems is essential. Limitations or even restrictions on physical contact pose challenges to the service of pumps and pump systems.
One of the leading suppliers for Information Technology (IT) services networks in Chile benefitted recently from the innovative Wilo-Live Assistant: the client needed the commissioning of booster sets done in time, due to COVID-19 it was nearly impossible to get the staff on site for this. Thanks to the digital support, Wilo Service employees were able to provide the proper support to the technician on site, in order to implement the commissioning via video chat. A big industry complex in India was also in need of support for booster systems while they wanted to avoid the breakdown time as well as an engineer visit during the COVID-19 pandemic. The provided online support via the Wilo-Live Assistant for a direct exchange enabled the customer to correct the sensor wiring and reset the system completely remote. By using the real-time video platform of the Wilo Live Assistant, failures can be determined and fixed remotely.
Digital solutions as protection
When the pandemic hit Europe, Italy was one of the absolute high-risk areas. Especially older people were classified as a risk group, which posed an enormous challenge to a retirement home in Brescia, as they were unable to deal with externals.
When a problem with an auxiliary contact occurred, the switchbox stopped working without giving any error signal. By using the Wilo-Live Assistant the colleague offsite was able to solve this problem by guiding our service partner onsite, where and which component had to be checked inside the switch box.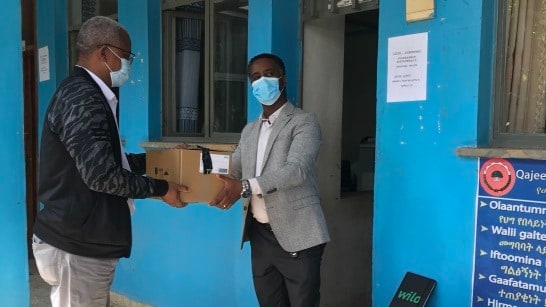 Wilo donates spare parts worth 10,000 USD to Ethiopian water supplier
Wilo not only takes responsibility for our environment, but also for people and society Global problems cannot be solved unilaterally, which is why the COVID-19 pandemic can only be tackled by standing together and supporting each other.
Ethiopia has faced a pronounced economic slowdown and urgent balance of payments need due to the pandemic. The slowdown of imports did affect a lot of enterprises that were in urgent need for goods to properly run their businesses.
Adama Town Water Supply and Sewerage Service Enterprise (ATWSSSE) provides quality drinking water to the people of Adama Town and its surrounding. During the time, when COVID-19 hit Ethiopia and clean water and sanitation were essential for saving lives, the water supply system wasn't fully operating, as urgently needed spare parts for pumps were missing.
To support the fight against the pandemic and as a sign of commitment, Wilo donated spare parts worth 10,000 USD.
"We are very thankful for the donation by Wilo, a leading manufacturing company for their donation to us. We seek to continue engaging in successful projects as we have over the past few years even as we continue to engage in future projects as well as in capacity building partnerships", stated a spokesperson from ATWSSSE.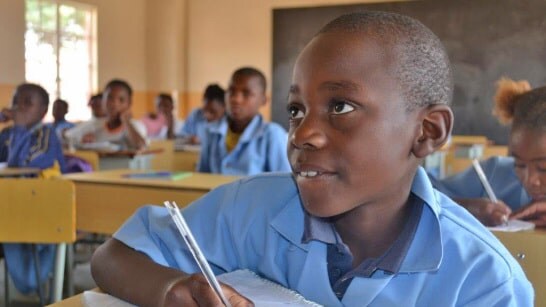 Wilo-Foundation
The Wilo-Foundation was set up by entrepreneur and philanthropist Dr.-Ing. h.c. Jochen Opländer and his children on 14 January 2011. The motivation behind setting up the foundation was to ensure that the Wilo Group would remain an independent company, aware of its social responsibility. The familiy foundation provides financial support for initiatives and projects in the areas of science, education and social welfare, culture and sport. In the face of the COVID-19 pandemic, the Wilo-Foundation is funding selected aid projects across the globe.