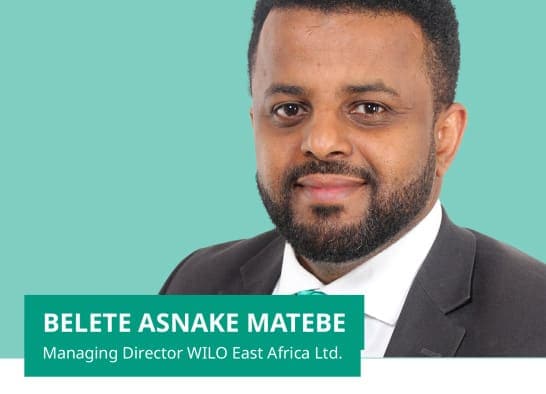 Belete Asnake Matebe|
Managing Director WILO East Africa Ltd.
"At Wilo, I work for a brand that's relevant today and will be even more so in the future. That's what makes my work special. I am delighted that we can offer our customers advice and solutions that perfectly match their needs!"
My Wilo journey
I have been with Wilo since 2011. Currently, I am the Managing Director of WILO East Africa Ltd. at our headquarters in Nairobi. My first encounter with Wilo was in 2011, when I joined the company as a "Pioneer". My task was to improve sales and brand awareness in Ethiopia, where we had no customer base. When Wilo set up a national office in Addis Ababa, I took the lead there for three years as the Country Manager. During that period, the company expanded its operations to Sudan and I headed activities in Ethiopia and Sudan for over a year.
What makes my work special
I love my job because it requires a lot of engagement. A typical day not only involves many conversations with other colleagues at Wilo, but also with customers and consultants in the region. I start my day in the office by reading and answering my e-mails over a cup of coffee. I plan my activities for the day according to their urgency, delegate responsibilities to my colleagues in the region and review their progress on existing assignments. Naturally, I am also available to answer their questions and in case of any difficulties. The significance of my work lies in promoting a brand that is relevant today and is even more essential for the future. I value the global support and cooperation that Wilo provides in order to promote reciprocal growth. But what delights me most every working day is that we are able to offer our clients advice and solutions that meet their needs – at a price both sides are happy with.
Teamwork at Wilo
To us, teamwork means defining goals together with colleagues, distributing and granting responsibilities practically and promoting employees' development whenever possible.
On Wilo as an employer
I appreciate the functional support and the existing structures that exist within Wilo – they are continuously being improved and integrate all Wilo employees around the globe. Wilo offers excellent and worthwhile jobs. I am fascinated by the personnel development programmes available in the company, which support all employees in the development of soft and hard skills as well as leadership qualities, and which foster personal and career development.
What "Pioneering for you" means to me
To me, it encompasses the importance of creating the future, thinking ahead, understanding the needs of our customers in relation to our product range, and taking the opportunity to develop more advanced products that make customers' lives easier.
My personal highlight at Wilo
Wilo launching in Nairobi in order to better reach customers in the East African region was a dream coming true.