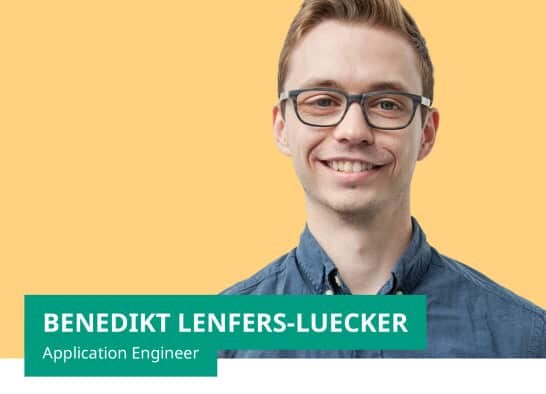 Benedikt Lenfers-Luecker |
Application Engineer
"I count it as a great personal success and recognition of my accomplishments that I was able to continue my work at Wilo as a software development engineer, which started as a part of a practical semester, after completing my bachelor's degree."
My Wilo journey
While searching for an internship as part of my mechanical engineering studies at FH Dortmund, I naturally also considered Wilo, as it was a local company. A number of interesting positions I could potentially apply for were mentioned when I made a telephone enquiry. A successful interview led to a six-month internship in the "Smart Testing Solutions" department in the software development division in Dortmund-Hörde. Following this, I was able to continue in the same position while writing my thesis as a bachelor's student. After my graduation I was employed as a software test bench development engineer in the "Qualification Project Office" department.
What makes my work special
I spend most of my time programming the tasks defined ahead of time in consultation with my supervisors. Completing a "single package" usually involves documenting a solution for the next software developer – as well as for the proposed users. Now and then I have to deal with emergencies – situations when acute problems and malfunctions appear in the software during test bench operation – in order to ensure that operations can be restarted as quickly as possible. It is always a matter of solving different problems. I always enjoy mastering the new challenges that result from a wide range of different situations. Sometimes all you need to solve a problem is a single thought that pops into your head over the course of the day and makes the task very simple the next morning.
Teamwork at Wilo
When I was as a student doing my internship, I felt I was really accepted into the department. The team involved me when discussing a lot of issues, not just the ones involved with my ongoing projects. That's what working on equal terms means to me – people supporting each other to achieve a common goal.
What "Pioneering for you" means to me
To be honest, when I think of our guiding principle, I tend to refer to it as "Engineering for you" – probably as a result of my mechanical engineering studies. What I mean by that is that we aim to develop solutions for the end user that simplify their everyday lives. For me, "Pioneering" expands this mentally and includes Wilo's aim of being a pioneer.
My personal highlight at Wilo
I am always pleased to see work I have done independently function and be used successfully. Similarly, the great trust put in me alongside the work I do is very encouraging. Being able to continue my work at Wilo after my bachelor's degree has probably been my greatest professional moment of success so far.