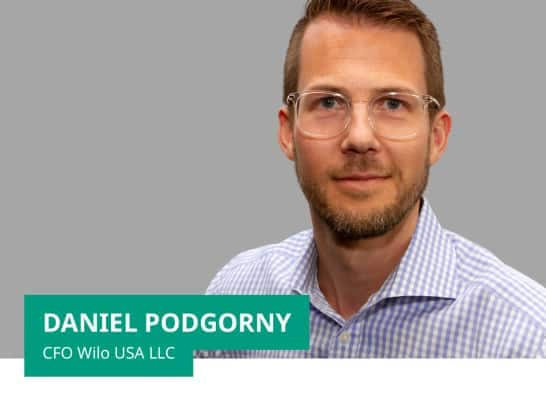 Daniel Podgorny |
CFO Wilo USA LLC
"There are two things I particularly like about my job: being able to contribute my financial knowledge to an industrial company like Wilo, and working hard in two worlds – in both a role at the company headquarters and in a local subsidiary."
My Wilo journey
I have been the local CFO of Wilo USA LLC, since August 2018. We are headquartered in Chicago and have responsibility for our North American sales area. At the same time, I am in charge of Group Finance at WILO SE. When I first joined Wilo as a member of the Group Finance & Legal team, I took on the challenge of developing financing solutions that would work with our most efficient pumps and take their energy savings into account.
What makes my work special
It's hard to describe a typical working day. I usually start my morning with Skype calls to Germany. After that, I usually email or talk to my managing directors about project progress, sales updates or similar issues. Once a week I visit our production facilities in Cedarburg/Wisconsin for personal management meetings and discussions with the local workforce. In between all that, I always try to have time for new or unexpected matters. As I work at the headquarters as well as in a local subsidiary, I am able to better understand different views on various topics at both the group and local level. I actually consider this to be my most valuable learning experience. In addition to this, I am delighted that I have such a welcoming relationship with my US colleagues and that I deal with more than just typical CFO issues in my current position. Sometimes it feels more like a COO role!
Teamwork at Wilo
Teamwork is essential for us. As the company is quite large and spread all over the world, you have to get your colleagues involved in order to obtain their support and all the information necessary to finish a project at the end of the day. You're always working with a very diverse group of people, which is very exciting!
On Wilo as an employer
From the very start, I was excited that I could finally combine my knowledge of banking and finance with an industrial company that offers solutions that I can be proud of and that improve people's lives and their environment. It is amazing how many great opportunities to engage with the company and contribute to its success in a range of ways Wilo offers me. After just 4 years, I am now in my third position at the company.
What "Pioneering for you" means to me
This mission statement definitely has a stronger meaning than ever before. Here in the USA, I learned to place customer interests at the heart of our actions – by letting "the voice of the customer" have a say in our decisions – as a result of being so closely and deeply involved in the business. That is a real privilege for me.
My personal highlight at Wilo
I am actually experiencing my personal Wilo highlight right now! My work in the USA, which requires me to take financial responsibility for a Wilo subsidiary as well as for a local reorganisation, is big challenge. At the same time, it is a real blessing to be so well supported here in the USA by my local colleagues after coming from the Wilo Group and its headquarters in Dortmund. This also inspires me to do things differently and change the way different topics are approached.