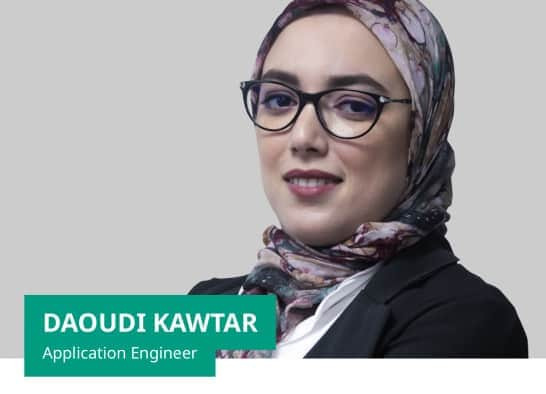 Daoudi Kawtar |
Application Engineer
"There are always new customers and projects to win – so there are always new challenges for sales support. Every new experience gives me more self-confidence and enables me to successfully tackle increasingly complex tasks."
My Wilo journey
I have been employed at Wilo since April 2017, when I made a spontaneous online application. After a two-week application process, I was invited to an interview at the Wilo site in Morocco and I have worked in the Technical Sales Support Department ever since.
What makes my work special
My working days are always clearly structured. I always update my list of daily tasks first and then get to work on the activities I have planned for the week. I make sure to do the most urgent and important tasks first. I have an exciting range of responsibilities that give me the opportunity to constantly learn more and pass on what I have learned. Having the opportunity to transmit ideas to the management and the team is also a good feature of my work. I have new experiences every day, and the more confident I become the more successfully I can carry out more complex tasks in the sales team. I feel lucky to be in my current position in the department, because it allows me to provide support to colleagues from Sales or Service.
Teamwork at Wilo
We are a successful team in which each individual's unique skills and strengths contribute to achieving a common goal in the most effective way. Here, too, the way we achieve our business goals creates a powerful team spirit, which is underpinned by our collective approach – with one target and one direction for all.
On Wilo as an employer
What impresses me most of all is the way the management leads the company – with clear structures and fluid processes. Wilo offers me a great workplace where I don't feel limited by hierarchies and where I can contribute my ideas freely. My career planning is systematically supported and promoted by professional assessments of my performance, which are carried out by the management on a regular basis. For me, Wilo is an achievement-oriented company and a strong brand that is worth working for. I am firmly convinced that I will be able to build a secure career in technical sales support here. It's fascinating to me that the challenges never end – there are always new customers to acquire, new products to be sold and new projects to be won.
What "Pioneering for you" means to me
For me, it symbolises the aim to continuously renew, develop and modernize tools and concepts. We don't just sell our customers, business partners and stakeholders a product; we deliver solutions and systems.
My personal highlight at Wilo
Experiencing Wilo's success story at both the local and the group level!