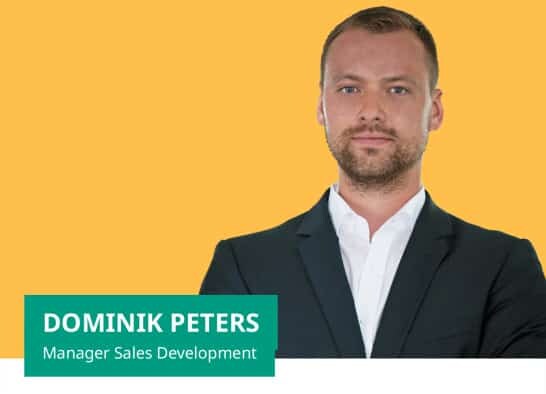 DOMINIK PETERS |
MANAGER SALES DEVELOPMENT
"I love meeting people from different cultures and learning from them. It feels great to work in China, one of Wilo's most important markets, and to actively support colleagues on-site in the Sales department!"
My Wilo journey
I have been working for WILO SE since October 2016. I currently work for Wilo China in Sales Development – Emerging Markets at the Beijing site. I started my Wilo career as a student worker in the Key Account Management department for the German-speaking (DACH) region in order to gain practical sales experience during the last semester of my master's degree at the University of Hagen. Later on I became a project manager for sales at Wilo Industry Systems Ltd. in Chemnitz before taking up my current position, based initially in Dortmund and then in Beijing from April 2019 onwards.
What makes my work special
It has always been clear to me that I wanted my work on a national level to be followed by international work. Wilo allowed me to move to China – one of our company's most important markets – to actively support our Chinese colleagues on-site in the Sales Excellence area. There, I am primarily responsible for four key elements: follow-up for major projects, channel development, key account management and pricing. A lot of organisational work with the teams is required to successfully manage these four thematic blocks. In most cases, meetings are held every day until noon to discuss the status of the individual projects and distribute tasks. In the afternoon, I spend a lot of time exchanging ideas with my colleagues in the CRM and Project Management department in Germany. We master new challenges together every day, and it feels great to be part of the Wilo community.
Teamwork at Wilo
Efficient teamwork is very important, particularly in an international environment. Without it, many major transnational projects would not be possible. During my time in the German-speaking DACH region, too, I could always rely on my colleagues' support. Because our work is time-sensitive, those of us who work in Sales are generally known for reacting very openly and directly to possible problems.
On Wilo as an employer
I particularly appreciate the culture of open discussion. I have never met a young colleague who wasn't given the opportunity to express their opinion openly. This is because even our long-standing colleagues know that the world is moving increasingly quickly as digitalisation takes hold. That's something we're especially aware of in China. Additionally, it is possible to quickly build up a very good network at Wilo because we have outstanding colleagues who are specialists in their specific fields. You can also always find someone at the top level of management to ask for advice at any time.
What "Pioneering for you" means to me
To me, it means always keeping the market and the customer in focus. We always need to be one step ahead of our competitors in order to be able to use this slogan in the years to come. That's very clear to everyone at Wilo, and we live and work accordingly. Digitalisation is also a great opportunity for us to become even more efficient and to meet customer wishes.
My personal highlight at Wilo
The introduction of our pump configuration tool for the Chinese market is the experience that has made the most impact on me so far. I coordinated the different teams working on the project, and after six months we were able to successfully hand over an offline and online version to our Chinese colleagues. From a sales point of view, that was a huge milestone!