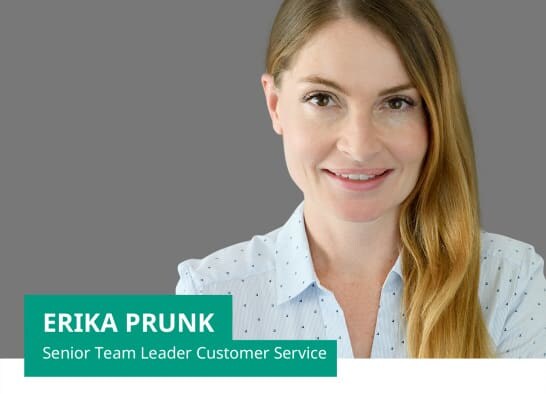 Erika Prunk |
Senior Team Leader Customer Service
"To be honest, Wilo is my second home. I enjoy the strong community and the familial atmosphere. I am proud of my enthusiastic, reliable and sincere team!"
My Wilo journey
I'm a "Wilo baby." I first walked through the entrance gates of the Hungarian site in 2006 – I had been hired as a student worker in the Logistics department. At that time, I was just about to graduate from my bachelor's degree in International Relations and Economics. After I completed my degree in 2007, I held several positions in various departments at Wilo before becoming Quality Manager for After-Sales and Customer Care in 2015. Today I manage and coordinate the After-Sales Service Department for Wilo Hungary and am a member of the European Works Council.
What makes my work special
Even though I have a fixed timetable in mind, something always happens in the service department that suddenly changes my daily routine and leads to new challenges. My focus is on building and maintaining professional and positive relationships with key accounts and our sales teams. Day after day, we offer a high-quality after-sales service. It is essential that our work on order books and customer programmes is excellent. We also need to proactively solve problems to ensure customer supply and achieve first-class delivery performance. There are customer complaints, returns and invoice enquiries to be handled. And in addition to this, product availability and delivery dates have to be checked. We also need to generate monthly KPI packages to analyse service performance from logistics and service data, as well as from customer feedback and customer satisfaction surveys.
Teamwork at Wilo
There is very close coordination between the different departments. Our team spirit is based on cooperation and mutual involvement through open discussions. Listening to and understanding each other, as well as mutual respect, is what characterises our team. We regularly have sales meetings, intensive project meetings and brainstorming sessions. Everyone is allowed to work independently and in their own way.
On Wilo as an employer
I appreciate the familial atmosphere at Wilo. Everyone here enjoys the strength of our community. To be honest, Wilo is my second home – and in any case, I would recommend Wilo as an employer that consistently supports education and professional development. At Wilo, hard and dedicated work always pays off.
What "Pioneering for you" means to me
To me, this sentence represents innovation and improvement, development and continuous learning in an industrial environment. It also includes a strong commitment to meeting the needs of our customers and stakeholders.
My personal highlight at Wilo
It was a great honour for me to be given leadership of the Service team in 2013. Another highlight was being allowed to participate in one of the talent programmes in 2017. More generally, receiving positive feedback from customers and colleagues always feels special to me.