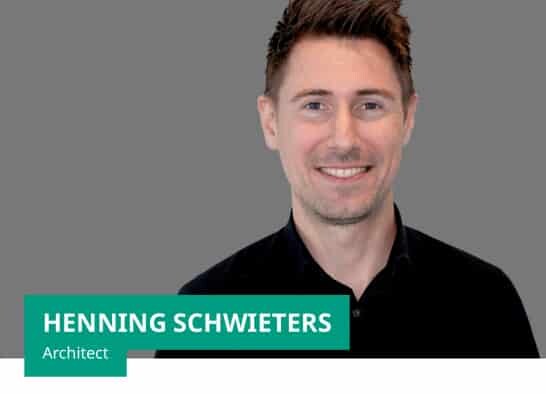 Henning Schwieters |
Architect
"As an architect, I am of course delighted to be able to pursue creative and planning-oriented tasks. At Wilo, I have an additional, coordinating function, which gives me the exciting opportunity to work with teams from a wide variety of professional groups – with diverse views to match."
My Wilo journey
I became aware of Wilo through the "Transformation" architectural competition organised by the Kulturkreis der Deutschen Wirtschaft. As a former prizewinner, I was very interested in the 2014 competition, which used the "Wilo Campus Dortmund" as its subject. During my undergraduate architecture studies and also while working on my master's, I had become intensively involved in the development and revitalisation of industrial sites. When Wilo offered me the opportunity to participate in a unique development project in the heart of my home region, I was on board immediately. As a result, I have been working for Group Location Management in Dortmund since August 2015.
What makes my work special
Most mornings, I prepare for my upcoming appointments with a cup of coffee and create a to-do list for the day. That includes, for example, planning, construction and coordination meetings as well as carrying out site inspections or sampling. I particularly like the versatility of my area of responsibility. Besides the classic planning tasks I carry out as an architect, I am responsible for representing WILO SE as the project manager for the Pioneering Cube in the new Wilo Park in Dortmund. In this role, I act as the central interface for all parties involved in the construction project – from colleagues and users from a range of different departments through external planners, consultants and city representatives all the way to the implementing partners on the construction site. In addition to this coordinating function, I am also pleased to be able to take on creative and planning tasks as an architect. Currently, that involves being the architect for the Networking Cube. After all, my enthusiasm for designing contemporary buildings with innovative usage concepts and being able to make them a reality was my reason for studying architecture.
Teamwork at Wilo
Work at Wilo is characterised by interdisciplinary and intercultural cooperation. At my former place of work, the team consisted mainly of architects and specialist planners. At Wilo, by contrast, the departmental and project teams are made up of a wide variety of professional groups, and as a result incorporate many different perspectives and ways of working.
On Wilo as an employer
As an employee, I am particularly fascinated by the wide range of tasks being carried out in an environment that is simultaneously very tradition-oriented, innovative and international.
What "Pioneering for you" means to me
Always looking to the future and constantly striving for new solutions and optimisation possibilities.
My personal highlight at Wilo
The ceremonial laying of the first stone for the Pioneer Cube was certainly one of my personal highlights in the company. And I would also list the City of Dortmund granting the building permit and the inauguration of the EUREF campus office in Berlin, my first project with Wilo.