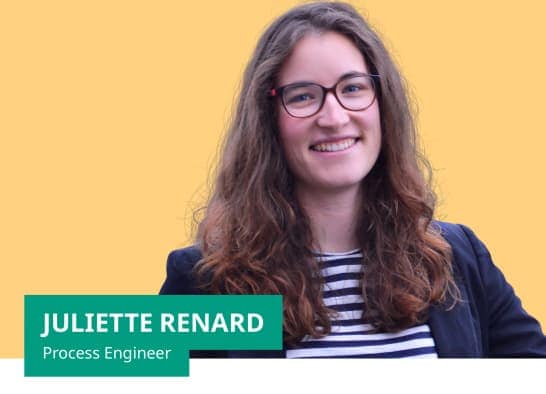 Juliette Renard |
Process Engineer
"Every day at Wilo is different and there is always something new to discover. The diversity of the processes we work with – and which encompass so many different technologies – is a tremendously exciting part of my work."
My Wilo journey
I haven't been with the company long, so my journey within Wilo has been a short one so far! I studied process engineering at university, and joined the Process Engineering department at the Laval location in France in April 2019.
What makes my work special
I am responsible for making the resources necessary for production available. The first order of business every day takes me to the Production department. There, colleagues from the relevant production units and I discuss how effectively the machines are working and any potential problems from the previous day. This close cooperation is very important in enabling me to provide needs-based support. Afterwards, and depending on the status of the project, I coordinate with other departments – such as Logistics, Accounting, IT, Purchasing, Design or Production. Every day is different and always has something new in store for me! The most exciting aspect during long-term projects is developing machines with the supplier. When a new machine is finally installed in the factory after months of development work, and it operates properly and fulfils all our requirements, our Production colleagues' satisfaction is palpable. Working together and being recognised in a team like this is great!
Teamwork at Wilo
Teamwork is part of the Wilo DNA. For example, when I return to the office with a complicated production problem, my team colleagues are there to help me right away if I need them. That way, we are able to try to find a fast solution together. That's the best kind of teamwork!
On Wilo as an employer
As a process engineer, the wide variety of processes within the company fascinates me. We deal with many different technologies in our work: winding, laser welding, assembly, painting, processing methods… After an intensive orientation phase, during which one is given the most important information about the company, newcomers quickly have the opportunity to take on more responsibility – even on more ambitious projects.
What "Pioneering for you" means to me
I see it as having three components. Firstly, innovation is always the key to a product's success. Secondly, Wilo also has strong "development programmes" – such as the digitalisation project. And finally, the company aims to identify for investment opportunities every year – ensuring that its machines are always efficient and that the company remains competitive in this way.
My personal highlight at Wilo
Right from the start, I was impressed by the distinctive safety culture in the plant. We don't just pay lip service to safety – it has top priority everywhere. That fundamentally changed the way I think and act in my daily work. I never experienced anything like that at my previous company.