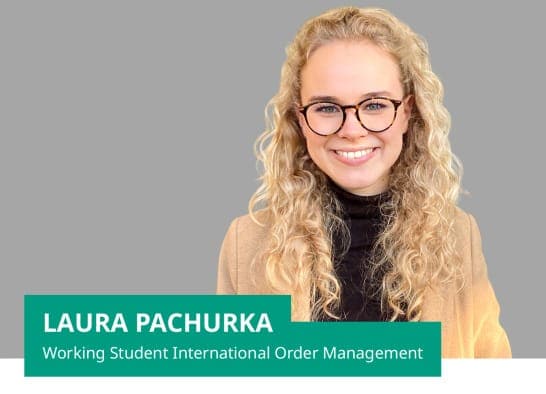 Laura Pachurka |
Working Student International Order Management
"I would describe my entire training period at Wilo as a personal highlight. It was an exciting, instructive and enjoyable time with helpful, kind colleagues, many of whom have become my friends."
My Wilo journey
I became aware of Wilo through my mother, who has been with the company for over thirty years. I applied to Wilo a year before taking my final high school exams and was able to start an apprenticeship as an industrial clerk in 2014, which I completed in 2017. Following my apprenticeship, I started studying full-time at TU Dortmund. As I am still completing my degree, I am now a part-time student worker in International Order Management at the Dortmund site. Twice a week I assist the team there with export processing.
What makes my work special
What I like most about my job are the working atmosphere, the varied tasks and the flexible working hours. I am not responsible for a specific area in my department, but support my colleagues with their global processing activities as needed. It makes me happy to go to Wilo in the morning knowing that there will be exciting activities waiting for me, and I enjoy seeing my team. When I start work, I find a free desk and ask my colleagues how I can support them. Because of this, I am faced with different tasks every day. I always try to fulfil them as reliably as possible. I often spend my breaks talking to the many other student workers on my floor.
Teamwork at Wilo
I would say that the teamwork at Wilo is very good. In my department, people help each other wherever they can. There is also systematic support and a productive exchange of information between the different departments.
On Wilo as an employer
I am excited by the size of the company and the fact it has been established on the market for a long time. Wilo provides many different opportunities to develop yourself professionally. I am also impressed by the fact that there are a large number of employees who have been with the company for a very long time.
What "Pioneering for you" means to me
To me, it means being a pioneer in terms of customer satisfaction – and creating innovations.
My personal highlight at Wilo
I don't have just one highlight. I think I'd say my entire apprenticeship was a highlight. It really was an exciting, instructive and fun time. As a result of my work in various departments, I gained a very good insight into the entire company and was able to see how multi-faceted Wilo is. I have met many nice and helpful colleagues who give me support whenever I need it. Many of them have also become my friends over time.