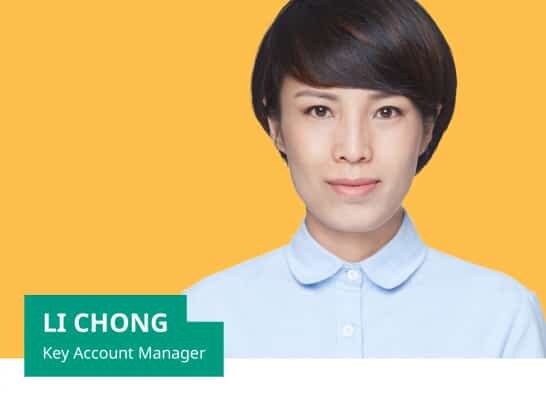 Li Chong |
Key Account Manager
"To me, Wilo is like a smooth-running high-speed train. And all our employees are highly committed to doing whatever they need to in order to ensure that our train continues to run at full speed!"
My Wilo journey
I joined Wilo in 2018 and am responsible for national key account management in Commercial Building Services at the Beijing plant. I have known about Wilo for a long time. When a headhunter asked to introduce me to the company, I didn't hesitate for a second and took full advantage of the opportunity.
What makes my work special
As a seller and distributor, we face new opportunities and challenges every day. I follow a regular routine: making plans, visiting customers, checking results, and updating plans. Ongoing cooperation and continuous progress provide me with a feeling of security and equilibrium in my job. That's the kind of stable environment I need to manage major innovations. Wilo is a traditional company with great personality, a long history and a unique culture. Here, we can discuss problems frankly and openly, explore business strategies for our brand with our colleagues and get involved as industry pioneers in our daily work – together. I really enjoy it when everyone works together and pursues the same goal.
Teamwork at Wilo
China is leading in the high-speed sector. It represents the most advanced locomotives, perfect body design and precise, intelligent control systems. Wilo is just like one of those high-speed trains. All our employees work hard to keep that train stable and operational. And it runs at full speed!
On Wilo as an employer
Wilo creates a sense of belonging, honour and performance that unites all of our employees throughout the world. I am firmly convinced that the different cultures at Wilo enrich all of us and make living and working together more enjoyable and successful.
What "Pioneering for you" means to me
There's a saying in China: "Never drop the ball at a critical moment." That's been my motto since childhood. Working with such an efficient, intelligent and visionary management team fills me with passion and motivation. My team and I are constantly improving thanks to a feeling that we are working to support that pioneering attitude. Alongside "pioneering for you" there's a sense of "you for pioneering".
My personal highlight at Wilo
At Wilo I have discovered another side of my personality – I have become more self-confident and tenacious. My work means a lot to me and I enjoy the challenges and the creative tasks it provides. Wilo represents large and small innovations – in the past, in the present and for the future.