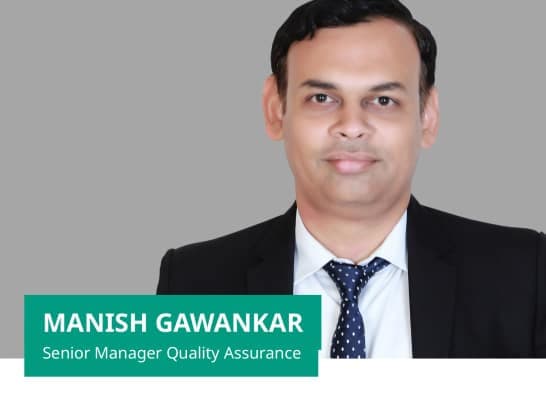 Manish Gawankar |
Senior Manager Quality Assurance
"Understanding and meeting the expectations of customers around the globe is my main passion. I am proud to be an integrated part of the Wilo family; who wouldn't want to be part of the group that developed the world's first smart pump?"
My Wilo journey
When I started my journey at our company, I was responsible for supplier quality. Now I'm responsible for customer quality. After studying mechanical engineering at the University of Pune, I started as a graduate engineer trainee at a compressor producer. In 2004, I spotted a job listing for Mather and Platt Pumps in a national daily newspaper. I knew right away that it was the right time for me to apply for a role there as a management trainee. Mather and Platt Pumps were then acquired by Wilo in 2005.
What makes my work special
No two working days are the same for me. Every day presents new challenges and learning opportunities. I usually start with a good cup of tea in the morning, followed by checking important e-mails and the meetings scheduled for the day. Nowadays, customer service is the most important thing. Interacting with the after-sales team, service partners and colleagues in the plant is part of my everyday routine. At Wilo, the letter "I" stands for people. Initially, I associated the "I" with internal customers. When I was given the job of customer quality assurance, I saw the letter as representing Indian customers – and later on it gained yet another new meaning for me in relation to international customers. Understanding and fulfilling the expectations of our entire global customer base is my biggest passion.
Teamwork at Wilo
The teamwork at Wilo is the most powerful thing you can find. The perfect example for this comes from 2018, when I was handed the additional responsibility of getting heavy cast-steel parts from our casting suppliers faster. With the help of our operational purchasers, I managed to get good castings – which helped us to enable on-time deliveries and reach our annual target. Other examples of this excellent teamwork include the implementation of the SAP Quality Module in India with the help of experts from Dortmund, and the support we receive from the International Service Provider on critical group projects.
On Wilo as an employer
The diversity within the business group and the motivation of each individual employee is exceptional. "Caring for people" has always been a good strategy, and initiatives in the fields of digitalisation and sustainability are becoming more and more dynamic. That's what's so exciting to me about Wilo as an employer. And who doesn't want to belong to the group that developed the world's first smart pump?
What "Pioneering for you" means to me
To me, it means being able to positively influence the life of all people living around the world, because everything we do is about water and water supply. In addition to this, the slogan ensures a high-quality brand image in our markets and represents the way we strive for continuous customer satisfaction by setting new standards in both technology and innovation – while at the same time fulfilling a social responsibility.
My personal highlight at Wilo
I have always taken part in the various competitions held at Wilo India. My slogan "Be a Star, Be a Hero, Adopt Safety to achieve Harm Zero" was chosen as the best safety slogan and presented in the factory. It really has helped me make safety a guiding aspect in every part of my life. Acting as a jury member for a number of competitions and well taking leadership roles in key projects have also given me the positive feeling of being an established member of the Wilo family.