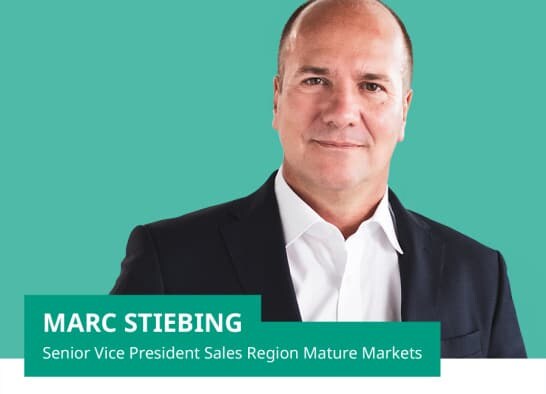 Marc Stiebing |
Senior Vice President Sales Region Mature Markets
"It's very important to me to personally interact with our customers to understand their market needs – and to convince them of Wilo's benefits again and again! And we're committed to climate protection. That alone ensures a good feeling at work every day!"
My Wilo journey
After studying mechanical engineering at the Bergische Universität Wuppertal and working in various professional positions as a design engineer, product manager, technical trainer and sales manager, I started as Technical Training Manager at Wilo in Dortmund in 2002. Following this I held many other positions at Wilo, throughout which I took on increasing international and leadership responsibilities. I have now been working as the SVP for Mature Markets at Wilo since 2019.
What makes my work special
Every day is different from the previous one: I might be debating new strategic topics, product ideas or marketing activities with other group functions at our headquarters, or contacting colleagues in our markets in order to help monitor and manage work performance in their areas of responsibility. My mission in my new role as Senior Vice President for Mature Markets is to improve sales efficiency and ensure profitable growth. I really enjoy spending time with our customers in order to understand their market needs and to promote Wilo's great qualities. I value interacting with people in general and believe that a good team can achieve much more than individuals. What makes me happy at work is feeling that we at Wilo are making our planet a better place every day. Our products and solutions support the reduction of humanity's carbon footprint – at all times and all around the world.
Teamwork at Wilo
I often get the impression that we are behave rather like a family. We work more closely together than most teams do – both when times are rough and when things are going well.
What "Pioneering for you" means to me
At Wilo, we spend every day working to make life easier for our customers. And because our products and solutions support sustainability, we do so with a lot of enthusiasm!
My personal highlight at Wilo
It has to be ISH 2011! We at Wilo were faced with the challenge of fulfilling a European directive that required pumps in heating applications to be replaced with highly efficient technologies by January 2012. It was during that fair that I first really realised the enormous potential our products and solutions have for sustainability.