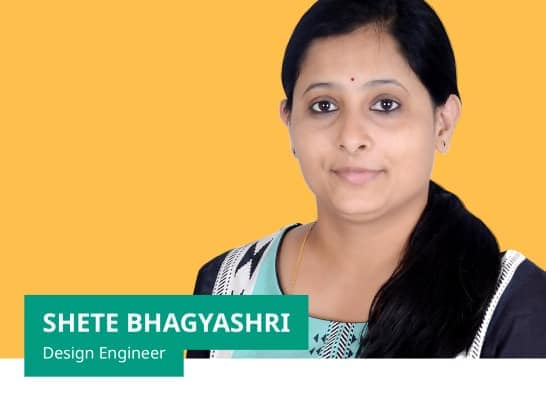 Shete Bhagyashri |
Design Engineer
"I feel very at home in the mechanical engineering industry. This is because of my team and because of Wilo as a whole, where people live by values such as ethics, transparency, openness, innovation culture, result-oriented change and welfare."
My Wilo journey
I did my bachelor's degree in mechanical engineering and have been working at Wilo's Design & Engineering Centre in India since 2005. I have always dreamed of working in the mechanical engineering industry. I started my career at Wilo as a management trainee as part of a special recruitment programme for female junior executives in mechanical engineering. I am now working as an assistant manager. Although I am the only woman amongst the 25 members of our team, I have never felt out of place. I always enjoy working in a team that supports me in every way.
What makes my work special
"Jal hi Jeevan hai" means "water is life". Simply turning on the tap to get cool, sparkling water – something we take for granted – is still an unimaginable luxury in many parts of the world. But it's exactly what we want to make accessible to as many people as possible with our pumps. Working in construction engineering and striving for higher energy efficiency in our pumps is my favourite challenge. Among other things, our work focuses on the development of new products and technologies and the product localisation programme for developing countries. Being part of that is very fulfilling. My daily working routine is characterised by project work, managing feedback on design improvements, meetings and discussions with my team colleagues.
Teamwork at Wilo
"Teamwork is dreamwork!" If you want to achieve outstanding results, teamwork and good coordination are vital. As members of the Design Centre, we often work together with colleagues in Germany and in the centres in some other countries. They provide us with excellent support wherever needed. At Wilo, people appreciate, enjoy and are motivated to work with multicultural teams.
On Wilo as an employer
I am delighted that our company is contributing to making people's lives easier by digitalising the pump industry in a world that is becoming increasingly driven by smart technologies. We developed the world's first intelligent pump – the Stratos MAXO. We are deservedly proud of that.
What "Pioneering for you" means to me
Our stated aim is to develop pumps exactly according to the customer's requirements – with all the newest technologies and the highest efficiency. That brings us a step closer to our goal of turning the planet green. Not only our pumps are used in many ecological buildings, but Wilo is the only pump manufacturer in India that has received a Gold Certification from the Indian Green Building Council (IGBC) for its production site.
My personal highlight at Wilo
My personal highlight was the "Wilo Welcome" for new employees at the headquarters of the Wilo Group in Dortmund. There, I was prepared for my future tasks and worked together with people from different cultures. In terms of growth, ethics, transparency, openness, innovation culture, results-oriented transformation and welfare, the development I have witnessed and experienced since Wilo took over my previous employer in 2005 has been incredible. That still motivates me to work for this company today.