László Szalai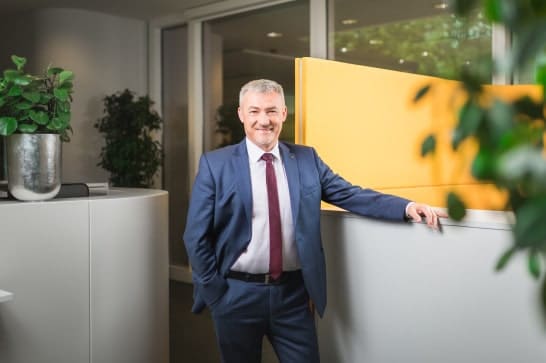 Managing Director Wilo Hungary
"At Wilo I took all the opportunities available to me to develop professionally and personally in order to advance. My gratitude for this is reflected both in my work and in my ambition to make a difference at Wilo. And thus, because hard work always pays off in the end."
"I was born in 1964 nearby Budapest. After school, I studied mechanical engineering and afterwards I successfully completed a 16-month DAAD scholarship at the Technical University of Karlsruhe in the Institute of Hydromechanics. At the end of 1993, I completed my vocational training with a dissertation on the numerical simulation of fluid flows.
After several years of professional experience in the field of research as a university lecturer, I decided to continue my career in the private sector. So I applied to a large number of companies and finally and with full conviction decided on Wilo as my new employer. Why Wilo? I was absolutely impressed by my interview partners during my last interview, which took place in Dortmund - we had the same understanding of trusting and respectful interaction and shared a common vision of the future. I already signed my employment contract during the interview.
In June 1994, my career began at Wilo Hungary as a Sales Engineer. In addition to the classic sales tasks, I trained new colleagues who were hired for our fast-growing organisation. After six years in this position, I was promoted to Sales Manager in the commercial project business with personnel responsibility for a total of six engineers. My advantages certainly were my professional knowledge and my leadership qualities, as well as my claim to constantly deliver top performance and be a good role model. In my opinion, this is the only way for managers to convince and motivate their employees.
In 2006, my new position as a Sales Manager Building Technology presented me with exciting challenges: In addition to my management role for 12 employees, I was now also responsible for the planning and realisation of the sales volume as well as for the costs and profitability of Wilo Hungary's largest market segment. I also supported the controlling and successfully implemented a newly developed sales strategy.
In 2016, Hungary's highly esteemed Managing Director went into his well-deserved retirement and his position was newly advertised - internally and externally. I dared myself to take on this responsible position and had the vision to further advance Wilo Hungary through my sales strategy. So I went through the HR Assessment Centre together with numerous external applicants and since September 2016 I have been the proud managing director of Wilo Hungary.
From my former manager, the management of Hungary, I learned a lot of professional and personal knowledge. I am still very grateful to him to this day that his unreserved trust gave me the opportunity to try things out in a wide scope of action. I myself try to continue to grow through my integrity and positive attitude. I will continue to motivate my employees, not least by appreciating their strenuous and high-quality work. Every day, I enjoy working for Wilo and I look forward to the years ahead."