Susan Meurer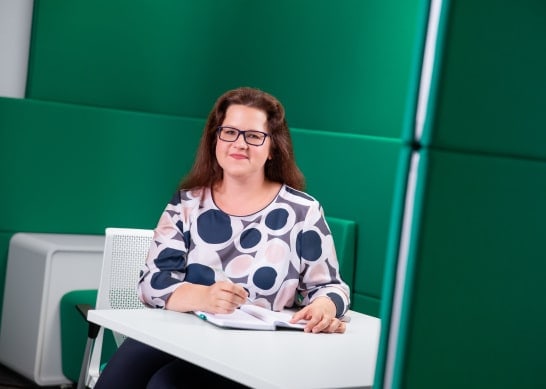 Director Offer Management & Technical Support
"My Wilo experience: openness leads to change. Change leads to further development. If the will and the environment fit. And it fits."
"I took the first step on my personal path at Wilo in 1995: After graduating from high school, I started my apprenticeship as an industrial clerk in our production facility in Oschersleben. There I got my first insights into the large Wilo world with several thousand employees - insights that made me curious. After I successfully completed my apprenticeship, I only stayed in there for a short time, because I was given the chance of a vacant position in our sales office in Hilden, which was 400 kilometers away. I took this opportunity!
The move to Hilden was a big step for me, both professionally and personally. However, I have never regretted the decision to change. Arriving in Hilden, I was not only given a warm welcome, but also quickly had the feeling of being in the right place. The insight into Wilo Sales showed me where I belong: To the Sales department!
The next steps in my career were to take on an assistant position of the Sales manager in Germany and then a central position in project management in Sales. I worked hand in hand with many different employees and departments on strategic sales projects and was able to gain a lot of experience which I still benefit from today. A large part of my Wilo network dates back to this time.
As a sideline, I extra-professionally completed my apprenticeship by studying Business administration at the FOM university. Although this was a very turbulent time full of changes, I would not like to miss it at all.
Finally, my private wish came true and I became a mother. For me it was immediately clear: I want to be a mother and work at the same time. And Wilo wanted me, too. We, Wilo and I, found exactly the conditions that are still a win-win situation for both sides. I enjoy the time with my daughter and can still work. My environment at Wilo - company, supervisor, colleagues and employees - makes the symbiosis of both possible, which I am very grateful for.
My last career step at Wilo so far was the promotion to Group Director Offer Management & Technical Support. My career at Wilo is an enrichment at all levels for me: I gained a lot of experience and developed myself. There were opportunities to change positions internally and take on responsibility. In addition, I participated in many various trainings at Wilo, some of them I helped to shape. I already achieved a lot and always remain open for coming changes – the changes we need in order to evolve."