Chinese ambassador visits Wilo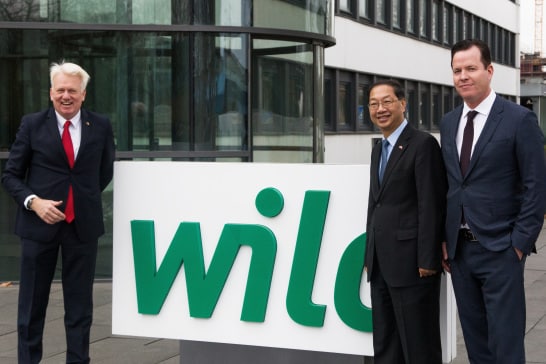 Shi Mingde exchanges ideas with chairman and CEO Oliver Hermes
Shi Mingde, the Ambassador of the People's Republic of China to Germany, has visited Dortmund in the course of one of his regular tours of the country. After being greeted in the town hall by Mayor Ullrich Sierau and being entered in the city's Golden Book – its register of notable visitors – the ambassador met with Oliver Hermes, CEO of WILO SE, for a meeting of about two hours.
Wilo has had a presence in China since 1995 and maintains two production sites in Beijing and Qinhuangdao as well as 16 sales offices nationwide. The opening of nine more sales offices is planned as part of the company's intensified localisation strategy. "China is an important economic area for us," explained Oliver Hermes. "On the one hand, the domestic market offers great potential. On the other, being based in China, we are able to carry out cross-national projects." Ambassador Shi Mingde was impressed: "If I hadn't visited Wilo, I would not have known about the company's technological leadership and future-oriented solutions." In-depth discussion of the geopolitical situation Ambassador Shi Mingde, Mayor Ullrich Sierau and Oliver Hermes discussed the current geopolitical situation in depth and emphasised the necessity of free markets: "As a global player, Wilo is a multilateralist. It's important to us to support free global trade," said Oliver Hermes. He gave the company's leading role in supporting the We4Europe initiative, the 'New Silk Road' project, and the Lisbon to Vladivostok common economic zone as examples.
China needs intelligent solutions for 'Smart Urban Areas'
Urban growth is increasing in China, too. "Cities in China are coalescing and creating large areas of high population density that need future-oriented, smart environmental technologies," said Oliver Hermes. "In the field of water management, as digital pioneer of the pumps industry, we are the technology leader in this area." Ambassador Shi Mingde praised the Dortmund-based company's analysis: "Talking about places as megacities is not enough. I like the approach of defining these regions as 'Smart Urban Areas.'"
Plans for further discussion during a visit to Berlin
"The visit was a great honour for us. We are orienting our strategic alignment to six megatrends, all of which are concentrated in 'Smart Urban Areas.' These urban agglomerations are currently developing in China, and we have the solutions for their demanding needs," said Oliver Hermes. Before travelling onwards, Ambassador Shi Mingde invited Mayor Ullrich Sierau and Oliver Hermes to Berlin for further discussions.