German Men's Eight wins Gold medal at World Rowing Championships in Sarasota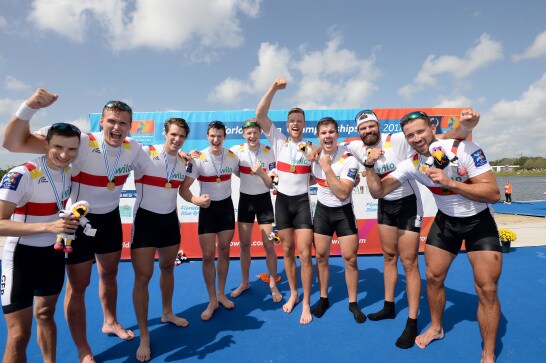 They raised their arms high up in the air whilst crossing the finish line and cheered during the award ceremony. Finally they threw their coxswain Martin Sauer into the water: Hannes Ocik, Richard Schmidt, Malte Jakschik, Jakob Schneider, Torben Johannesen, Maximilian Planer, Felix Wimberger, Johannes Weißenfeld and Martin Sauer – the German Men's Eight won the World Championship in Sarasota (USA) followed by a hilarious celebration.
Torben Johannesen said: "A dream came true" and Hannes Ocik answered: "I am still full of adrenalin and it will take some time until I realise what happened today". "That was an excellent start into the Olympic season until Tokyo. May it go on like this", added Johannes Weißenfeld. The national coach Uwe Bender sought closeness to the team after winning the gold medal and he enjoyed listening to the German National Anthem: "This is the cherry on the cake after a successful season. I am very proud of the outcome." The World Cup title in Florida after the European Championship title by breaking the world record time as well as the victories in Henley and Lucerne is the crowning glory of this exceptional rowing year for the flagship of German sports.
Due to the emerging crosswinds, the fairness commission of the world committee FISA changed the distribution of lanes prior to the final race, thus the German boat started from lane six – the windward side. Ultimately, the crosswinds had no greater effect on the race. The German Men's Eight set the pace as usual and achieved a lead of half a boats length. At first, New Zealand could keep up but after the first half of the race, the German crew detached itself by leading by a boat's length ahead of the USA. The host gave its very best and was passionately encouraged by the spectators on the sold-out grand stand. "This extremely pushed us to the limit", said Johannes Weißenfeld, who won against the USA by a half boat's length with his team. The Italian team won the bronze medal defeating the Netherlands.
The World Cup also ran successfully for the Coxed Pair and the Coxless Four. The Duo Finn Schröder and Malte Großmann won with Coxswain Jonas Wiesen the gold medal with a terrific final spurt. It is the first common season for this boat crew.
The young Coxless Four achieved the sixth place in high-speed finals with an average age of 21. Their goal was to reach the finals; this was a great achievement for the young team.
In the end, whether it is the Coxless Pair, the Coxless Four or the German Men's Eight, our motto always remains wilove Team D8!