Dr Jochen Opländer names Oliver Hermes as his business successor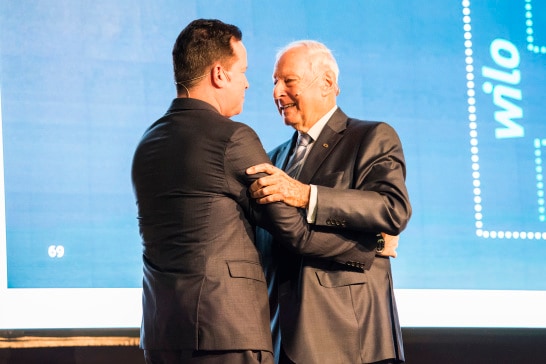 Dortmund. Dr Jochen Opländer, shareholder and honorary chairman of the Supervisory Board of WILO SE and founder of the Wilo-Foundation, has named WILO SE's CEO Oliver Hermes (48) as his business successor. In addition to this, he granted Oliver Hermes, who has been part of the global technology specialist's Executive Board since October 2006 and has led the company as its CEO for many years, an entrepreneurial equity participation in WILO SE.
Furthermore, Dr Jochen Opländer also appointed him chairman of the Board of Trustees of the Wilo-Foundation, effective from 13 April 2019 until his 75th birthday. The family foundation holds the majority of shares in WILO SE. "Oliver Hermes will take over from Prof. Dr Hans-Jörg Bullinger, who will be withdrawing from the Board of Trustees on reaching the age limit for members," explained Dr Jochen Opländer. He expressed his warm thanks for Prof. Dr Bullinger's many years of successful work at the head of the foundation.
"Over the course of our long professional cooperation, Oliver Hermes and I have also developed a close friendship," said Dr Jochen Opländer. "Oliver Hermes embodies and lives by the personal and professional values that represent the Opländer family's guiding principles." He said that these principles had formed the foundation of the company's success for generations. Dr Jochen Opländer said he was certain that "Oliver Hermes' continued adherence to this way of doing business will ensure ongoing success in future."
Moreover, he said that it was important to him that Oliver Hermes has a very close relationship with the other members of the Opländer family. To Dr Jochen Opländer's great joy, they expressly welcomed the decisions and measures taken.
"It is a great honour for me to be given the opportunity to succeed Dr Jochen Opländer in the business," said Oliver Hermes. "I would like to thank the founding family as well as the Supervisory Board for the great trust they have placed in me, both in the past and with respect to this decision." Referring to the company's nearly 150-year history, he said he would make every effort to continue its successful journey in accordance with the Opländer family's values.