"From water to Wilo back to water".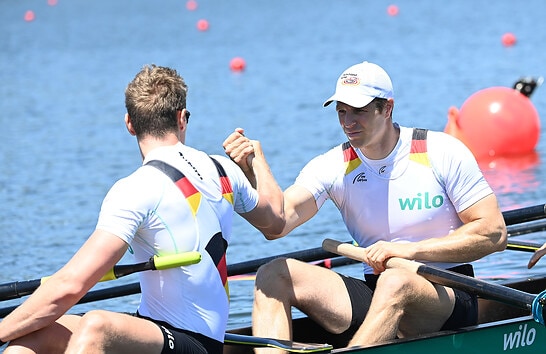 Wilo and the Team German Men's Eight: successful partnership in the new 2022 competition season and beyond.
Dortmund. At the media day at the Rowing Performance Centre in Dortmund, the Team German Men's Eight presented its new line-ups for the German Men's Eight as well as for the Coxless Pair and the Men's Four. The new crews are evidence of a change in the successful team, which also won Olympic silver in Tokyo last year after three World Championships and eight European Championships in a row.
The rowers don't have much time to get used to the new team and "make kilometres" together. The schedule is filled with events: From 17 to 19 June, the boats will take part in the World Cup in Poznan, Poland. The next World Cup follows only a few weeks later in Lucerne/Switzerland. In August, the home appearance at the European Championships in Munich is on the agenda. Another month later, the World Championships will take place in Racice/Czech Republic from 18 to 25 September.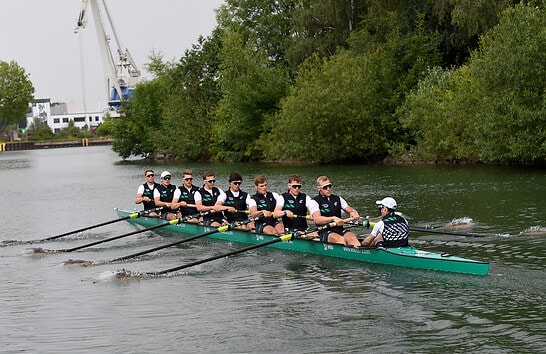 "We wish the rowers a lot of strength and success for this challenging competition season," says Oliver Hermes, Chairman and CEO of the Wilo Group. "We are proud to have accompanied the Team German Men's Eight for so long and we look forward to celebrating the next successes together."
The Wilo Group has accompanied the Team German Men's Eight as a main sponsor since 2010. 2022 is not only a year of change for the rowers. The Wilo Group has also filled an important new post. Richard Schmidt, multiple World and European champion as well as Olympic champion with the German Men's Eight, has been a new member of the Wilo family since January. As a specialist in hydrogen technologies, he supports the development and expansion of a new business area for Wilo. As the contact person for the Team German Men's Eight, however, the 35-year-old family man remains closely connected to his former teammates. "Now I can accompany the team's further path to success and at the same time passionately advocate the new hydrogen technology at Wilo," says Schmidt.
The partnership between Wilo and the Team German Men's Eight has always gone beyond sponsoring. Both are united by their identification with their home city of Dortmund, their passion for water and their commitment to promoting young talent. "From water to Wilo back to water," Schmidt traces his own path. "I am really happy and grateful that I can seamlessly combine competitive sport, passion and career.