"German Brand Award" for Wilo Annual Report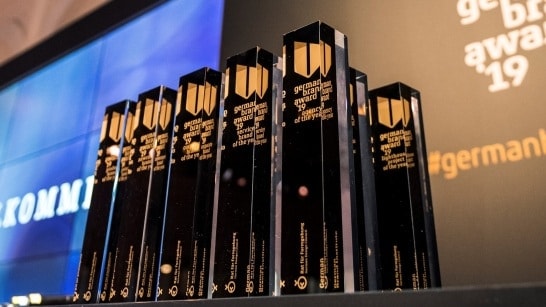 Technology specialist from Dortmund convinces jury with content and implementation
Dortmund/ Berlin. For the fourth year in a row, the "German Design Council" has awarded Wilo with the renowned German Brand Award. The 2017 annual report convinced in the category "Corporate Publishing". Both, the content concept and the creative implementation of the Dortmund-based technology specialist for pump system solutions were honoured.
"With our annual report 'Smart Urban Areas', it was our aim to take up one of the greatest and most important challenges of our time and simultaneously present the system solutions designed for it," explains Oliver Hermes, Chairman of the Board and CEO of the Wilo Group. "In addition to an obligatory but at the same time attractively prepared Group management report, we have attached particular importance to providing evidence within the framework of our positioning as a solutions provider for years now." With that said, he was particularly proud of the award, which shows that Wilo has also established itself in this area. "The annual report is a central building block in Wilo's external presentation to our stakeholders, with which we position ourselves not least as a responsible part of society. At the same time, it can be seen as a corporate business card," explains Oliver Hermes.
Corporate culture of central importance
The German Brand Award is presented in three classes, which are again subdivided into subcategories. Wilo was awarded the "Winner" in the class "Brand Communication" in the category "Corporate Publishing" with the annual report 2017 this time. There was also a "Special Mention" in the "Lighthouse Project of the Year" category. "Every year, our annual report deals with global social challenges and presents our solution competence," says Marc Stiebing, Senior Vice President Strategic Sales & Marketing at Wilo. "The 'German Brand Award' for our Annual Report is both an award for us and an incentive to continue our efforts.
Jury praises implementation of integrated brand communication
In the jury's statement, both the content concept and the design implementation are highlighted: "WILO SE's 2017 Annual Report focuses on an important topic for the future: Smart Urban Areas. In the print report, striking photos and informative inlets illustrated the interplay between major social trends and entrepreneurial growth potential," says the eight-member jury of brand experts.
Fifth award in the fourth year
In 2016 Wilo was awarded the German Brand Award in the "Industry Excellence in Branding" class in the "Machines & Engineering" category in gold, followed in 2017 by a double award as "Winner" for a sub-project on the employer brand, as well as the Digital Customer Interface, a web-based customer interface with which the Dortmund-based company was able to position itself as a digital pioneer in the pump industry. Each year, there is only one company in each category among all participants to receive the highest award in "Gold". Last year, the technology specialist was also honored with a "Gold" award for its employer branding campaign "Keep it fluent".