German-Polish future markets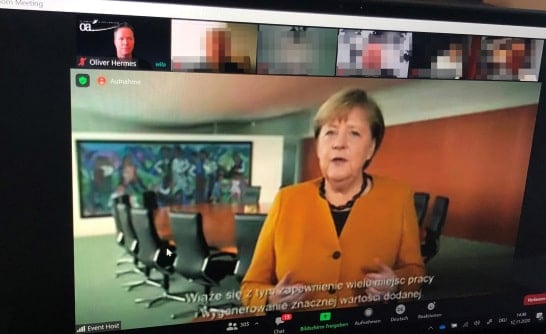 Wilo is committed to joint market perspectives and opportunities in change
Digitization and sustainability - these are just some of the core topics of the hybrid conference "German-Polish Future Markets", which took place on November 17. Not only did this conference serve the exchange between the two countries, it also honored the 25th anniversary of the German-Polish Chamber of Industry and Commerce (AHK) as the organizers. On this occasion, the German Chancellor Angela Merkel and the Prime Minister Mateusz Morawiecki gave virtual greetings. Among the numerous high-ranking representatives from business and science from Germany and Poland, Oliver Hermes, President and CEO of the Wilo Group and President of the Committee on Eastern Europe, was also invited.
As a panelist, Oliver Hermes discussed with three other experts whether sustainability should be seen as a competitive factor. He emphasized: "The German-Polish cooperation is particularly important with regards to the topic of sustainability, because only together can the necessary issues such as energy efficiency and the implementation of the Green Deal be further advanced. Poland has taken the first steps in the right direction with the entry into force of the ErP Directive, which sets out the requirements for the environmentally sound design of energy-related products in the common internal market of the European Union. It should also be noted that the most digital products are generally also the most energy efficient. With the help of our digital, smart and connective pumps, we were able to supply water to over 750 households in a city near Warsaw, while achieving energy savings of up to 30%".
All panelists agreed that sustainable development of the economy, society and the environment is necessary, but this should not be at the expense of the development of future generations.