Kazakh Ambassador Guest at Wilo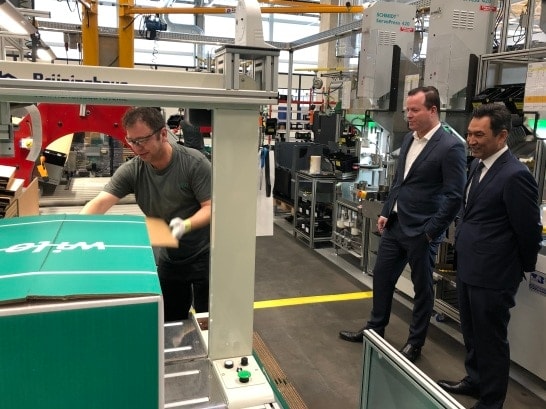 Exchanges on the Eurasian Economic Union and cooperation with German companies
The Kazakh Ambassador, Dauren Karipov, visited the Wilo headquarters in Dortmund during his German trip. The diplomat was appointed to his office in June this year and has made it his objective to further extend and deepen cooperation with regions such as the Ruhr area. On this occasion, Mr Karipov congratulated Oliver Hermes, Chairman and CEO of the Wilo Group, on his election to the post of Chairman of the Board of the German Eastern Business Association (OAOEV).
During discussions with the Kazakh ambassador, Oliver Hermes emphasised the increasing importance of the Central Asian economic area for the German economy and also for his company: "The Wilo Group has been operating successfully in Kazakhstan for 20 years. The platform concept established there underlines the Wilo Group's increased commitment in the emerging markets."
To conclude his visit, Ambassador Karipov was able to obtain a personal impression of production in accordance with Industry 4.0 standards in the new Smart Factory. After his tour, the Kazakh Ambassador was extremely impressed by the largest investment project carried out in almost 150 years of Wilo company history.