Vaccine instead of "artificial economic coma" – let's demonstrate the strength of German industry together, instead of making it weaker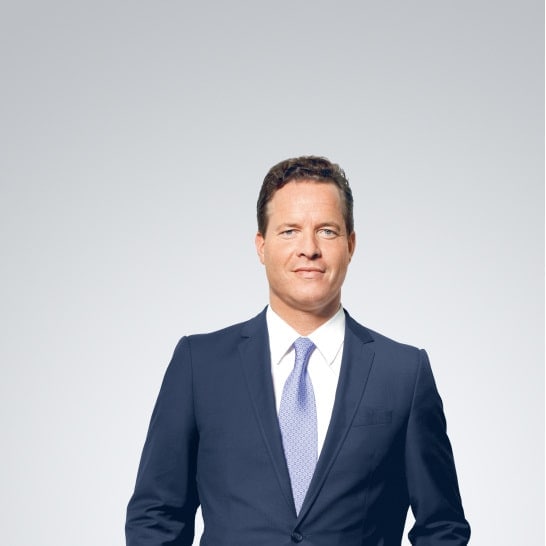 Essay of Oliver Hermes
Dear ladies and gentlemen,
The heated debate, which we've witnessed recently, especially in the world of politics, as to whether further restrictive measures need to be introduced in the fight against the corona pandemic, should raise serious concerns for the entire German economy.
A full economic lockdown would surely lead to significant long-term macroeconomic and social damage if it were to go ahead. And not just in Germany, but also at the very least within the European Union due to the closely interconnected value chains.
Even the debate itself is already resulting in microeconomic reflexes which could have a negative effect on overall economic development in Germany or within the EU.
Because companies, if taken as economic entities, generally tend to act like private households. The mere statements of some politicians, who are in favour of a complete lockdown, are causing further uncertainty in the goods markets. Long-term procurement strategies are falling victim to the short-term procurement tactics of companies. Critical raw materials and supplies as well as semi-finished products and important components are being "stockpiled" in anticipation of an economic lockdown – just like toilet paper.
The value chains of the German economy and the EU are once again being turned upside down by the current discussions which, taken in isolation, will accelerate uncertainty in the goods markets across Europe.
If a complete lockdown does indeed come to pass, then the consequences will be clear for all to see. The German and European economies will slide into a deeper recession, and further loss of employment and prosperity as well as social upheavals will be inevitable.
If the German economy needs to be fully shut down for an (unspecified) period of time, those companies, for example, which previously acted in a socially responsible manner with respect to their employees and abstained from taking certain measures, will now also seek permission to introduce reduced working hours. Many well-prepared companies already have their corresponding company agreements from 2020 at the ready and will now implement them in 2021. Furthermore, there will be much debate as to which companies might qualify as systemically relevant in terms of protecting critical infrastructures, and which might need to close. In turn, systemically relevant companies may not be able to meet their responsibilities if their suppliers have to close because of the lockdown and are therefore unable to provide their services. In this case, we would run the risk of not being able to maintain critical infrastructures under certain circumstances.
In order to mitigate the overall economic and social damage, external financing would be required at state level, and the huge amounts of debt incurred by some EU member states, including Germany, would further increase at an exponential rate. The resulting burdens would then be borne by future generations.
The real economic upheavals are likely to lead to a financial crisis. As more and more companies face the prospect of insolvency, the banking sector will inevitably be put under severe strain due to potential defaults and bad debts. Currently, from a legal perspective, companies shaken by the pandemic are not required to file for insolvency; ultimately, however, that will not protect them from actual insolvency.
If we accept that the banking crisis of 2008/2009 was self-induced by the financial sector, what we ended up with was a real economic crisis followed by an overall economic recession.
The corona crisis of 2020/2021 may well mutate into a financial and banking crisis. Unlike in previous years, however, now the catalyst is the beleaguered real economy. Financial and real economic effects follow each other, and this makes it much more difficult for the overall economy to recover in the short term. You don't need to have studied economics to understand what might happen if the economy goes into full lockdown. Shutting down the economy – namely by inducing an "artificial coma" – would most likely result in a long-term, economic depression.
However, it's impossible to predict and more difficult to assess whether going into full lockdown is actually an effective strategy for reducing the incidence rates. We keep getting contradictory data and analyses at best.
Many companies have been exemplary in their introduction of hygiene and home office concepts, going over and above what is legally required when implementing pandemic regulations. The concepts they've developed are far more efficient than those used during the first wave back in the spring of 2020.
Our political leaders are right to emphasise the importance of using the "home office" where possible. Well-run companies send their office and administrative staff home to work anyway. However, the fact that a large percentage of Germany's economic performance comes from the production/manufacturing sector should not be ignored. Luckily, Germany remains an industrial nation; however, this also means that a significant portion of the workforce cannot work from home – unfortunately, this fact often seems to be neglected in current political discussions.
For this reason, companies in the manufacturing sector have implemented very high hygiene standards with regard to their production and logistics processes and, for example, adjusted their shifts. In accordance with the current digital age, they have invested heavily in electronic technologies for maintaining minimum distances and in software for tracing chains of infection. All this has been done so that companies can react appropriately in case of emergency and further optimise occupational safety and health on a continuous basis.
Of course, the efforts and investments made to ensure the greatest possible health protection for employees as well as for customers and suppliers also apply to industries that have already been shut down. Retail trade, tourism, gastronomy, and not to mention cultural professionals have now been suffering under the current lockdown regulations since November 2020. However, postulating the complete lockdown of the economy out of a sense of solidarity and justice with these disadvantaged industries gets us nowhere. After all, every single sector of the economy will need reliable and solvent customers in the future.
It is up to the political leaders to strike the right balance between protecting the health of the general public and satisfying the relevant economic-social and legitimate welfare needs of the population as a whole.
However, implementing a consistent and accelerated vaccination strategy is one way of escaping this political-ethical-economic dilemma:
While an initial vaccination strategy was formulated in the summer of 2020 after the first wave of the pandemic, the goalposts for this strategy have since shifted dramatically in at least one respect. The coronavirus has since mutated, frighteningly enough, in such a way that it is now even more infectious. And this means that we now also need to "mutate" our vaccination strategy. The vaccination strategy must therefore be revised, improved and, most importantly, implemented at a much faster pace.
A national effort is needed to dramatically increase the output of vaccine production. To this end, companies in the German pharmaceutical industry need to stand shoulder to shoulder. At the end of the day, it was German industry that succeeded in developing the first vaccine to be cleared by both the American and European health authorities.
This is a great achievement, which should encourage us to keep moving forward and once again demonstrate the outstanding strength of the German pharmaceutical industry. We should do everything that is economically, legally, politically and technologically necessary to ensure that vaccinations can be rolled out to the public more quickly.
Such a national show of strength would not be perceived as some kind of "vaccination nationalism", but rather would ultimately support the supply of the vaccine to the global market thanks to readily available "surplus quantities". In addition to the cooperation on accelerating vaccine production, there is no doubt either that German industry would be ready to provide efficient and rapid distribution of the products.
Finally, this could also help solve the political-ethical-economic dilemma described above together with the relevant social partners. The country could be kept up and running, social systems could be assisted through continued value creation, and a global contribution could be made to controlling the pandemic and supporting people's health. The cost of implementing a smarter vaccination strategy is certainly homeopathic compared to the cost and harm of a complete economic lockdown. The sooner we emerge from the pandemic, the sooner we will then be able to implement structural changes that were delayed by the pandemic but are sorely needed to ensure the future viability of the German economy in the digital and ecological age.
Kind regards
Oliver Hermes
President & CEO Wilo Group
Chairman of the Board of Trustees Wilo-Foundation