Meeting with First Deputy Prime Minister of Russia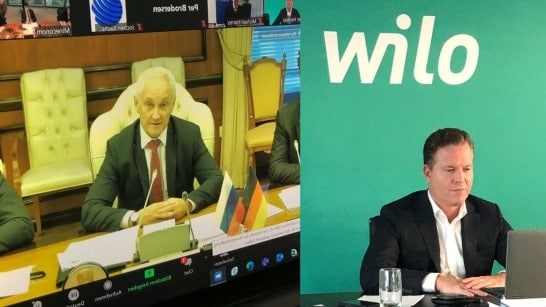 The German economy continues to rely on dialogue between Germany and Russia
On 13 October 2020, the German Eastern Business Association invited to an online meeting with the First Deputy Prime Minister of the Russian Federation, Andrey Belousov, along with top representatives of other Russian ministries. Around 25 representatives from German companies took part in the two-hour exchange to jointly discuss the prospects for closer economic cooperation in fields such as healthcare, digital transformation, the energy industry, and environmental and climate protection.
"In these politically challenging times, it's particularly important that we, as German Eastern Business Association, continue the dialogue between Germany and Russia and focus on future opportunities for our cooperation", emphasised Oliver Hermes, President and CEO of the Wilo Group in his role as President for the German Eastern Business Association in his opening statement. He also emphasised that a joint, coordinated strategy between the EU and Russia with a focus on energy, climate and digital transformation is a huge opportunity for the continent to reposition itself amongst the international competition.
During this online meeting, he also spoke about the Wilo Group as a pioneer in the area of climate protection. As one of "50 Sustainability & Climate Leaders" worldwide, Wilo is committed to achieving the 17 SDGs put forward by the United Nations. On top of this, new opportunities in the future field of hydrogen could open up for Wilo also in Russia.
"For a number of years, the Wilo Group has been committed to German-Russian relations at all levels – in the areas of business, science and education. After several decades of experience in Russia, Wilo opened a production plant in the Moscow region in 2016 and continues to drive forward its localisation strategy. Most recently, Wilo was one of the few foreign companies to be classified as "strategically important" by the Russian Federation. Our pumps and pump systems allow us to ensure that critical infrastructures are maintained during the coronavirus pandemic", said Oliver Hermes.