The Vaccination Room at Wilo is Ready to Go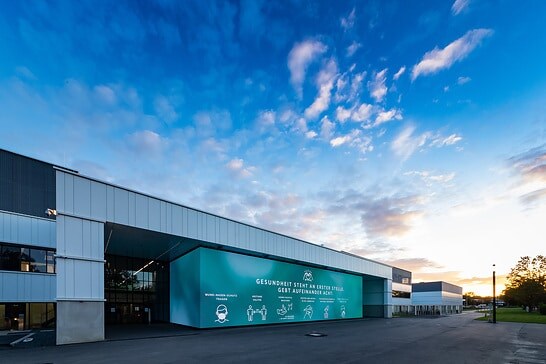 Strong interest in voluntary vaccination with the technology specialist
Dortmund. For some time, Wilo has been offering its employees free self-tests and has set up its own test centre at its production site at the Wilopark. As of last week, there is also a vaccination room right next to the self-test centre now. With a fully-equipped area that is ready for operation, the technology specialist will be able to start with the comprehensive vaccination of its workforce as soon as the approval for company doctors has been granted and the vaccine is available.
"We set up the vaccination room in Dortmund in three days using our own resources. Similar international initiatives have also already been initiated, for example, at the two Wilo sites in France and Russia", explains Oliver Hermes, President & CEO of the Wilo Group. In addition to a large waiting area and space for administering the vaccinations themselves, two booths have also been set up for the initial medical consultation.
The remaining time before the vaccines are allocated is being used wisely to anonymously ask the workforce whether they are willing to be vaccinated. The survey is digital, with a survey tool having been programmed in-house. After just over a week, around 900 colleagues from Service, Production and Administration have already taken part in the survey. Almost 20 percent have already received at least one dose of the vaccine, and out of the remaining employees, around 96 percent intend to get vaccinated.
It's currently neither possible to provide information regarding a specific start date for vaccinations at Wilo in Dortmund, nor to say which vaccine will be used. "However, what's sure is that we've gone above and beyond with our homework and will be operational in the shortest time possible as soon as we receive the allocation of the vaccine", explains Georg Fölting, Head of Group Campus Management.
When the pandemic struck last spring, Wilo set up a task force to primarily focus on the health of its employees, but also to keep a permanent eye on current developments and upcoming measures with a forward-looking approach at the same time. As a result, the idea of an in-house vaccination campaign with the corresponding infrastructure came around at the end of last year. As part of these considerations, the ones responsible also took a look at the Dortmund vaccination centre in the Warsteiner Music Hall, among other sites, in order to develop a vaccination room layout that's perfectly adapted to Wilo.