Wilo in exchange with Prime Minister of Ukraine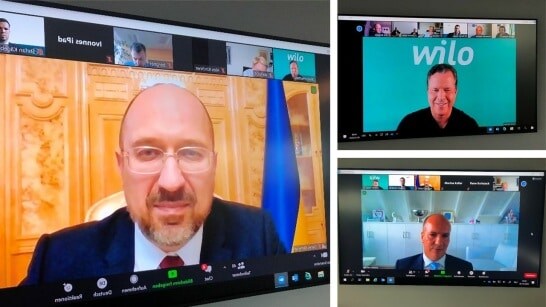 German Eastern Business Association conference on German-Ukrainian areas of cooperation
"Dear Prime Minister, on behalf of the German economy, I would like to thank you for this and I am pleased that you are available for this digital exchange and that we can talk together about current issues in bilateral economic relations," opened up Oliver Hermes, President & CEO of the Wilo Group in his function as the Chairman of the German Eastern Business Association (GEBA).
The video conference organised by the GEBA replaced a planned delegation trip to Ukraine, which was postponed due to the coronavirus. In addition to the Ukrainian Prime Minister Denis Schmyhal, the Finance Minister of Ukraine, Ihor Umansky, took time to exchange ideas with around 30 German companies. Anka Feldhusen, the German Ambassadress to Ukraine and Alexander Markus, the Chairman of the German-Ukrainian Chamber of Commerce and Industry, as well as Jean Froehly from the Foreign Office were connected live, too.
The Wilo Group was also represented by Marc Stiebing, Senior Vice President Sales Region Mature Markets, in the context of this virtual exchange. "Pumps today consume around 10% of the world's energy and 90% of them are out of date. In view of climate change, it is necessary to switch to state-of-the-art, controlled and controllable Wilo high-efficiency pumps. Most of these pump systems, especially in water supply, are obsolete. Through replacement is it possible to achieve savings potentials of up to 70%. The amortisation of the investment is between 4-6 years ", says Marc Stiebing.
"Companies in both countries are already benefiting from the digitalisation boost triggered by the coronavirus crisis. Germany can also here be a first-class partner for Ukraine", Oliver Hermes concluded the event.