Wilo is one of Germany's "best family businesses"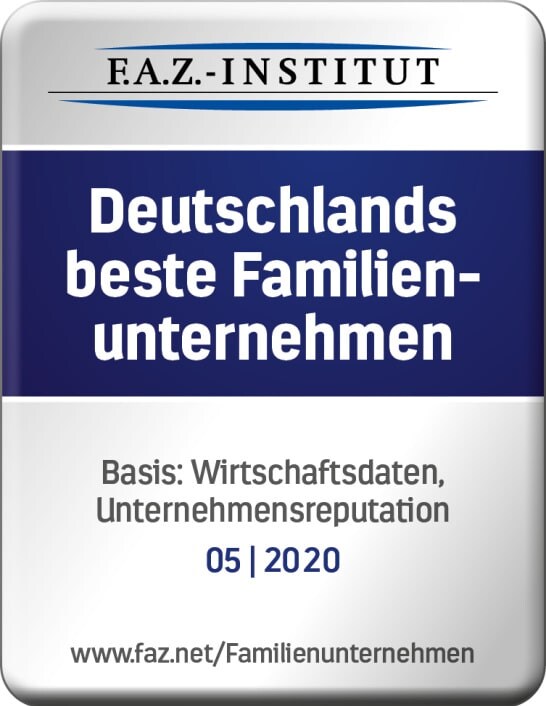 A distinction awarded by the F.A.Z.-Institut in cooperation with the IMWF Institut für Management- und Wirtschaftsforschung
The Dortmund technology firm Wilo rose above a field of 2,600 German family-owned companies to be honoured as one of Germany's best family businesses. The F.A.Z.-Institut, a body owned by the renowned Frankfurter Allgemeine Zeitung newspaper, worked with the IMWF Institut für Management- und Wirtschaftsforschung (Institute for Management and Economic Research) to examine the companies' performance in terms of economic stability, employer quality, innovation, management, service and sustainability.
The Wilo Group achieved exceptional results, demonstrating the strengths of family-owned companies – particularly when compared to publicly traded companies, and especially so in economically challenging times.
"The reason that German family businesses are so successful is that they operate sustainably and with a view to the future. It is also these family-owned companies, which use their considerable innovative power and above-average research and development achievements to produce technologies for the long-term, that are protecting the climate and accelerating the digital transformation. They do so in the knowledge that such work can, to a degree, prevent the ecological upheaval that would otherwise disproportionately affect the more vulnerable members of society. In this way, family-owned companies also contribute to achieving greater social equality through climate protection," explains Oliver Hermes, President & CEO of the Wilo Group. "Wilo adapted and developed its legal structure and company processes early on in its journey towards becoming a globally active company. In doing so, Wilo has always remained true to its origins as a family-run company with the corporate culture of a medium-sized business," says Oliver Hermes. Hermes also acts as the Chairman of the Board of Trustees of the Wilo-Foundation, the majority shareholder of Wilo SE.
Looking back over the past ten years, the Wilo Group's future-oriented approach is clear: over the past decade, the group has made investments of around one billion euros. "Our investment activities have been focused on the forward-looking expansion of our production capacities, the development of our sales infrastructure, the acquisition of businesses in various countries and the implementation of the digital transformation. We are able to make these investments thanks to the structure of our company group, which has the Wilo-Foundation as its principal shareholder. And the Wilo-Foundation is designed to exist in perpetuity," explains Oliver Hermes.