Wilo strengthens Franco-German cooperation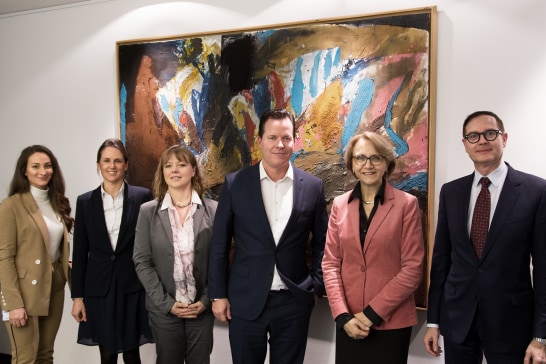 Oliver Hermes meets with the French ambassador
Dortmund. On the 30th of November the chairman and CEO of Wilo, Oliver Hermes, met the French ambassador Anne-Marie Descôtes to discuss networks, location development and strengthening the Franco-German relationship.
"Wilo's activities in France are very important to us. Around 70 percent of our products are currently produced in France. There, too, we express our passion for technology through our work," said Oliver Hermes during the visit by French ambassador Anne-Marie Descôtes. The ambassador was accompanied by Dr Olivia Berkeley-Christmann, Consul General and Director of the Institut français de Rhénanie du Nord/Westphalie, Didier Bolougne, Managing Director of the government agency Business France, and Dr Nathalie Belafi from Business France in Berlin. Among other topics, our guests were of course interested in the development of Wilo's manufacturing activities and market presence in France.
The chairman and CEO of Wilo sees great potential for manufacturing sites in France: "The digital transformation that we are carrying out at our Dortmund site is being partially rolled out in France at the same time. The French initiative 'Industrie de l'Avenir' (Industry of the Future) represents a digital counterpart to the 'Industry 4.0' concept in Germany. In the implementation of our own digital strategy at our German and French sites, we are combining the best ideas from both initiatives." Furthermore, the training and promotion of new employees is of particular importance in the digital age. We want to take part in joint German and French training projects to support this.
Ambassador Anne-Marie Descôtes was impressed by Wilo's social engagement and plans for the future: "I would like to present Wilo as an example to others, as the company and its employees want to make the planet a better place. Topics like the management of water resources are of utmost importance for future generations. If we join forces to carry out tangible projects, we have an opportunity to make a difference together," the ambassador said at the conclusion of the gathering.